Branding & Logo Guide
The logo for the Division of Biological Sciences was developed by University Communications and Public Affairs (UCPA) to align with the campus-wide brand identity and guidelines. It is available for official use by members of the Division of Biological Sciences and the UC community.
Please refer to the UCPA's comprehensive guidelines regarding the usage and display of the university logo.
Using the UC San Diego Biological Sciences Logo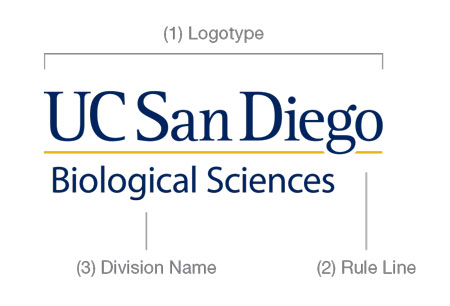 The UC San Diego Biological Sciences logo has three components:
(1) the logotype, custom designed and based on the Rotis Serif font;
(2) the rule line below the logotype; and
(3) the division name, set in Myriad Pro.
The logo must appear on the front and/or back of all printed material intended for internal and external audiences. For printed materials, place the logo in the upper left or lower right corner of the piece.
Do not change the typeface
Do not attach other graphic elements to the logotype
Do not stretch or change the proportions of the logotype
Do not rearrange or overlap components of logo
---
Logo Color: Print and Product Collateral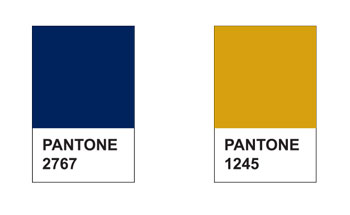 The official colors of the UC San Diego logo in print are PMS 2767 (blue) for the logotype and PMS 1245 (yellow) for the rule. The logo can also appear as one color in either PMS 2767 or black. When using the logo over an image or dark background, as on the cover of a brochure, the logo should be reversed to white.
Use only specified colors
Do not outline logotype
---
Logo Color: Online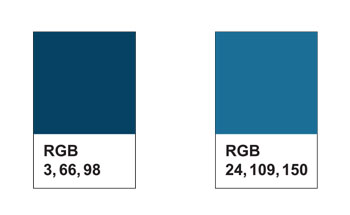 These are the logo colors when used online. The most effective color for the logo is often white in which case it should be reversed.
---
Clear Space: Print and Online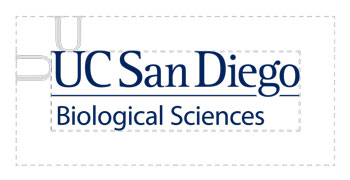 The logo requires an appropriate amount of space around it. The clear space around the logo should be a minimum of one cap height. No text, graphics or other elements should appear in this space.
Download the Digital logo package (PNG, JPG - RGB)
Download the Print logo package (EPS, JPG - CMYK)
Questions? Please send a message to
biowebgroup@ucsd.edu
and your inquiry will be routed to the most appropriate party.