Student Opportunities
Undergraduate education in the Division of Biological Sciences is a unique combination of learning opportunities inside and outside the classroom, on and off-campus, as well as numerous options for international experiences, treating the world as the classroom.

We have developed programs that help inspire students to evolve from passive to active learners and that prepare them for a successful transition to post-college education and professional careers.
do/bio
The Center for Discovering Opportunities in Biological Sciences (do/bio) complements and enriches undergraduate scholarship with discovery-based, experiential learning, including research, internship and international study opportunities. Find out more about do/bio.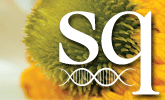 The goal of the Saltman Quarterly Program is to convey the excitement of science and increasing the awareness of and pride in the contributions of undergraduates to biological research to the Division of Biological Sciences, UC San Diego and the greater San Diego community.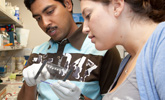 Teaching is an invaluable experience. It develops communication and leadership skills, and provides an opportunity to better understand how people learn. Being an undergraduate instructional apprentice allows undergraduates to get to know and work with faculty outside the classroom settings.
The Gabriele Wienhausen Biological Sciences Scholarship is a highly competitive annual award for continuing students who demonstrate outstanding academic and community engagement at UC San Diego. Each year, we select an exceptional, biology upperclassman to receive a one-year award up to $2,000, to financially support their college career at UC San Diego.
Undergraduate Student Advisory Council (USAC)
The Undergraduate Student Advisory Council is charged with advising the Director of Undergraduate Education on issues related to undergraduate curriculum and student  involvement opportunities. The USAC is on hiatus for the 2016-17 academic year.