Kathy French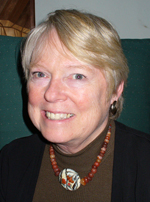 Lecturer (Security of Employment)
Division of Biological Sciences
e-mail: kfrench@ucsd.edu 
     My research explores two different physiological questions:  (1) how do neurons establish in embryos the synaptic connections that will permit the nervous system to produce appropriate and effective behavior? and (2) how do hormones change activity in neuronal circuits to modify behavior? I study these problems in an animal with fairly complex behavior, but a relatively simple nervous system--the medicinal leech. 
     The following publications give more information about these two topics:
Wagenaar DW, Hamilton MS, Huang T, Kristan WB, and French KA (2010). A hormone-activated central pattern generator for courtship.  Curr. Biol. 20:487-495.  (Discussed in a Dispatch by Kevin Crisp: Behavioral neurobiology: Leech lust in the lab, same volume, R276-278). 

Todd KL, Kristan WB Jr., French KA  (2010). Gap junction expression is required for normal chemical synapse formation.  J. Neurosci. 30:15277-15285.

Teaching:
I teach a variety of upper-division physiology courses at UCSD, and I also teach BILD 2 (Multicellular life, an introductory physiology course).  These courses allow me to think more broadly about animals and how they work, which is a pleasure.  In addition, I believe that a major goal of science education at the University level should be teaching our students how to think about science and how to evaluate statements that are--or claim to be--scientific, so I try in all my courses to stimulate students to think critically and to regard all of their life experiences as the laboratory part of the course.

Service:
     I serve as Faculty TA Advisor in the Division of Biological Sciences, so I am responsible for organizing the training program for all new TAs in lecture courses in the Division, and I provide assistance to TAs when they need it.   As Faculty Advisor to the Biological Sciences Scholars Program, I help to steer this program for high-achieving Biology majors.  As President of the UCSD Chapter of Phi Beta Kappa, I contribute to the activities of our chapter of this highly respected undergraduate honor society.  Phi Beta Kappa was founded in 1776 at the College of William and Mary and now has 280 chapters on campuses across the United States. 
---
Education:
B. S. with Honors in Psychology, University of Washington
M.S. in Zoology, Washington State University
Ph.D. in Marine Biology, Boston University Marine Program at the Marine Biological Laboratories in Woods Hole, Massachusetts
Post-doctoral fellow, Department of Physiology, University of North Carolina School of Medicine
Post-doctoral fellow, Carnegie Institution of Washington at Johns Hopkins University