Dan L. Lindsley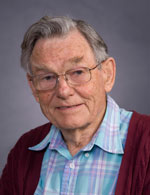 Professor Emeritus
Secton of Cell and Developmental Biology, UCSD
e-mail: dlindsley@ucsd.edu
Upon completion of the compendium on the Drosophila genome cited below, I have returned to genetic studies of male infertility, of both genetic and chromosomal origin, in Drosophila melanogaster.  I continue to pursue a modest cytogenetic research program in this field.  In addition, I am investigating the persistent mutagenic activity of chemically modified DNA during the establishment of the germ line.
---
Lindsley, D. L. and Zimm, G. G. (1992). The Genome of Drosophila melanogaster.  Academic Press; 1134 pp.
---
    Dan Lindsley received his Ph.D. from the California Institute of Technology in 1952.  Before joining the faculty at UCSD, he was a biologist at Oak Ridge National Laboratory.  He was an NSF Senior Postdoctoral Fellow in 1960-61 and 1965-66 and received an NIH Special Fellowship in 1972-73.  In 1980-81, Dr. Lindsley was named a Fogarty International Fellow.  He is a member of the National Academy of Sciences and American Academy of Arts and Sciences.  He was president of the Genetics Society of America in 1986 and recipient of its T. H. Morgan Medal in 1989.  He was the recipient of a Distinguished Alumnus Awards from Cal Tech in 2000 and from the University of Missouri in 2010.  He also was awarded Laurea Honoris Causa from the University of Rome in 2009.