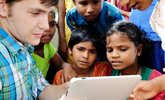 Study Abroad
UC San Diego offers several options for students to take advantage of opportunities abroad. Options range from summer to yearlong programs for UC credit, as well as work, internship, and volunteer abroad opportunities. Visit the UC San Diego Study Abroad Office to start your search for the right study abroad program for you! To explore the diverse opportunities available to you, please visit the Study Abroad Programs page.
The experience of studying abroad can assist you in the following ways:
Give you an experience of a lifetime.
Set you apart

and

improve your resume by showing recruiters that you possess international skills. Skills that many students do not possess - less than 1% of U.S. college students study abroad annually.
Potentially satisfy UC San Diego college and major requirements.
Widen your social network by meeting students and professors from around the world.
Expand your mind by learning a new culture and seeing the world from another perspective.
Add to your skill set by learning new techniques and approaches in biology that might not be taught at UC San Diego.
The Division of Biological Sciences strongly encourages students to participate in available study abroad opportunities. However, it is very important that students who plan to participate in the UC Education Abroad Program (including the Global Seminar program) or the UC San Diego Opportunities Abroad Program (OAP) plan ahead. For more information about how to prepare for programs abroad, please see Study Abroad in Biology.
Related Links
Questions? If you are a current UC San Diego student, please contact us through the
Virtual Advising Center
(VAC). The Division of Biological Sciences, as well as the Programs Abroad Office, can be reached via the VAC.