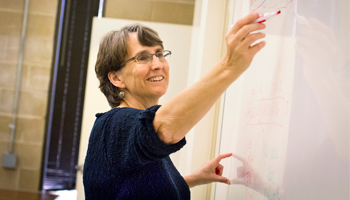 An unusual genomics research paper published this month by 940 students at 63 universities around the nation provided 16 undergraduate biology students at UC San Diego with an opportunity to conduct original research in a classroom setting, while becoming co-authors in a peer‐reviewed scientific journal.
Published in the May issue of the journal G3: Genes|Genomes|Genetics, the study conducted by the undergraduate student researchers detailed the evolution of an unusual chromosome in fruit flies. It was made possible by the Genomics Education Partnership, a Howard Hughes Medical Institute-funded collaboration with the biology department and Genome Sequencing Center of Washington University in St. Louis, which coordinated the work.
"This collaboration provided a genuine research experience in our undergraduate biology classroom," said Stephanie Mel, a teaching professor in the Division of Biological Sciences at UC San Diego who in 2010 designed and taught a new biology course called "Research Explorations in Genomics" to take part in this effort.