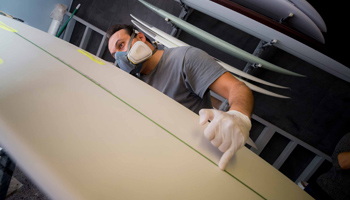 World's first algae-based, sustainable surfboard produced by UC San Diego biology and chemistry students
UC San Diego's efforts to produce innovative and sustainable solutions to the world's environmental problems have resulted in a partnership with the region's surfing industry to create the world's first algae-based, sustainable surfboard.
The surfboard was publicly unveiled and presented Tuesday evening, a day before Earth Day, to San Diego Mayor Kevin Faulconer at San Diego Symphony Hall, where he hosted the premiere of the National Geographic "World's Smart Cities: San Diego" documentary. The program, which features innovations from UC San Diego, is scheduled to air Saturday, April 25 and May 2 on the National Geographic Channel.