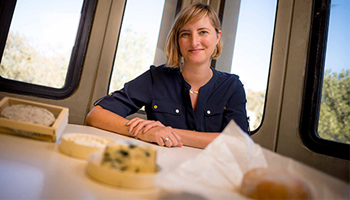 In an innovative effort to understand microbial communities, a UC San Diego biology professor has turned cheese into her 'lab rat'
While many microbiologists build entire research careers around studies of a single microorganism, Rachel Dutton has taken her career in the other direction—examining collections of microbes, but with an unusual twist. She studies what grows on cheese.
No, not the powdery stuff many of us remember mixing with milk from boxes of Kraft Macaroni and Cheese in our dorm rooms. Dutton's fromage, like her molecular biology laboratory in the Applied Physics and Mathematics Building, is a lot more complex and cutting edge.