Leilani Cruz Named to Bouchet Graduate Honor Society
April 4, 2016
By Kim McDonald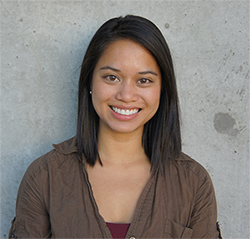 Leilani Cruz, a Ph.D. student in the Division of  Biological Sciences is one of ten graduate students  recently selected for the 2015-2016  cohort of the UC San Diego chapter of the Bouchet Graduate Honor Society.  These students will have an opportunity to attend the Bouchet Conference on Diversity in Graduate Education held at Yale University in early April, where they will also be inducted into the society.  Travel expenses for the scholars will be provided by the Graduate Division and the Vice Chancellor for Equity Diversity and Inclusion.

Cruz has participated in various outreach events through the university's Diversity Committee and has partnered with Reuben H. Fleet Science Center during the last few years as a guest scientist in the center's summer camps and SciTech after school program. She was also a featured scientist in the Spotlight on San Diego Science series.

For more information on the Bouchet Graduate Honor Society and to see the bios of the new members at UC San Diego go to the 2015-2016 UC San Diego Bouchet Graduate Honor Society Members website.