Emily Troemel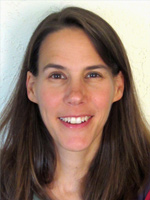 Assistant Professor
Section of Cell and Developmental Biology, UCSD
e-mail: etroemel@ucsd.edu
Lab Homepage: Troemel Lab
    How do pathogens attack their hosts, and how do hosts defend themselves against these attacks? We are using the nematode C. elegans to study these questions of host/pathogen interactions in the intestine. The nematode C. elegans provides a wonderful system in which to study these questions, as it has intestinal cells that are similar in structure to human intestinal cells, but C. elegans is transparent and easy to study in lab. C. elegans lacks an adaptive immune system, and instead relies solely on the evolutionarily ancient innate immune system to fight off attacks. C. elegans appears to use epithelial cells of the intestine as an "immune organ". It is being increasingly appreciated that epithelial cells in the intestine are involved in detecting and responding to pathogens in mammals as well, but how they do this is somewhat mysterious. What we find in C. elegans may be directly applicable to host/pathogen interactions in the human intestine.
    Our research focuses on two different pathogens: the first is an extracellular bacterial pathogen called Pseudomonas aeruginosa, which is a clinically relevant pathogen that causes opportunistic infections in humans. The second is a natural intracellular pathogen isolated from a wild-caught C. elegans strain, which we have found is a new species of microsporidia. Microsporidia are poorly understood eukaryotic pathogens that are emerging pathogens of humans and can cause problems for immunocompromised patients.
1) The extracellular bacterial pathogen P. aeruginosa.
    For our studies of P. aeruginosa infection of C. elegans, we have performed microarrays to determine the repertoire of genes regulated early in infection by P. aeruginosa. Using quantitative PCR we have determined that an evolutionarily conserved p38 MAPK pathway is important for inducing some of these early response genes. To identify the other early response pathway(s), we have created transgenic GFP worm strains that become fluorescent when infected with pathogenic P. aeruginosa (see Fig. 1). These strains provide a convenient way to search for genes that are required for the innate immune response against pathogen infection. Using one of these strains we have identified genes important for the early response to infection. Our goal in these studies is to understand how pathogens are detected by C. elegans.
2) The intracellular microsporidian pathogen N. parisii.
    Little is known about the natural pathogens of C. elegans. We have identified and characterized a natural intracellular pathogen of C. elegans that we are calling Nematocida parisii, or nematode-killer from Paris (we found this pathogen in a worm isolated from a compost pit near Paris). N. parisii defines a new genus and species of microsporidia, which are a class of intracellular parasites that are most closely related to fungi. Microsporidia are increasingly appreciated to be a serious medical problem, as 15 different species have now been shown to infect humans, most commonly causing intestinal infections. We have exploited our C. elegans/microsporidia model to investigate how microsporidia escape out of host intestinal cells. By tracking when animals are infectious to others and examining different structures within infected intestinal cells, we have found that a cytoskeletal structure called the terminal web is restructured by microsporidia, probably as part of a strategy to escape from host cells. It appears that previously identified pathways important for defense against bacterial infection, like the p38 MAPK pathway, are not important for defense against microsporidia. We are interested in determining which defense pathways C. elegans uses to fight off microsporidian infection, with the goal of understanding how the innate immune system controls this medically and agriculturally relevant but poorly understood class of pathogens.
---
Estes KA, Szumowski SC, Troemel ER. Non-lytic, actin-based exit of intracellular parasites from C. elegans intestinal cells. PLoS Pathogens, in press.
Troemel ER. New Models of Microsporidiosis: Infections in Zebrafish, C. elegans, and Honey Bee. PLoS Pathogens 2011 vol. 7 (2) pp. e1001243.
Irazoqui JE, Troemel ER, Feinbaum RL, Luhachack LG, Cezairliyan BO, Ausubel FM. Distinct pathogenesis and host responses during infection of C. elegans by P. aeruginosa and S. aureus. PLoS Pathogens 2010 Jul 1;6:e1000982.
Estes KA, Dunbar TL, Powell JR, Ausubel FM, Troemel ER. bZIP transcription factor zip-2 mediates an early response to Pseudomonas aeruginosa infection in Caenorhabditis elegans. Proc Natl Acad Sci U S A. 2010 Feb 2;107(5):2153-8. Epub 2010 Jan 21.
Troemel ER, Felix M-A, Whiteman NK, Barrière A, Ausubel FM.  (2008) Microsporidia are natural intracellular parasites of the nematode Caenorhabditis elegans. PLoS Biol 6(12):e309.
Miyata S, Begun J, Troemel ER, Ausubel FM. (2008). DAF-16-Dependent Suppression of Immunity during Reproduction in C. elegans. Genetics. Feb;178(2):903-18. Epub 2008 Feb 1.
Troemel ER, Chu SW, Reinke V, Lee SS, Ausubel FM, Kim DH. (2006) p38 MAPK regulates expression of immune response genes and contributes to longevity in C. elegans.  PLoS Genet. Nov 10;2(11):e183. Epub 2006 Sep 11.
---
    Emily Troemel received her B.S. from the University of Wisconsin-Madison and then spent a year in Japan before receiving her Ph.D. in Cell Biology at UC-San Francisco. She worked for a start-up biotech company in the Bay Area before returning to academia to do a postdoc at Massachusetts General Hospital and then joined the UCSD faculty in 2008.