Graduate Studies
The Division of Biological Sciences offers 2 distinct graduate programs:
The UC San Diego Biological Sciences program is a partnership between the Division of Biological Sciences and the Salk Institute for Biological Studies. This creates a powerful and closely linked intellectual community, unified by the broad discipline of biological sciences.
Our programs boast over 100 faculty who provide a supportive and stimulating environment to enable highly talented individuals to develop the skills and experience necessary to become world-class scientists.
Student Spotlights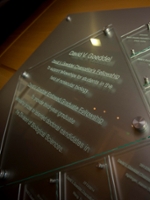 Six graduate students in the Division of Biological Sciences have been named 2017 awardees of David V. Goeddel Graduate Fellowships at UC San Diego.