Newsletter Issue 3: Spring 2022
Meet a Staff Member: Fadi Rahawi
February 11, 2022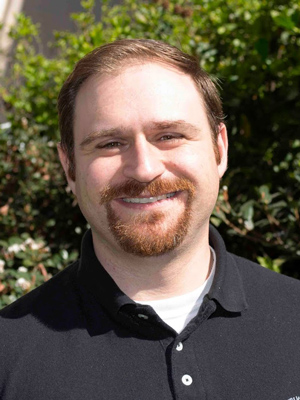 Title: Information Technology Operations Coordinator
Years at UC San Diego, Division of Biological Sciences: 11 years (with an approximate one-year break in the middle; previously an Electrical Engineering student and staff worker with facilities management in Geisel Library)
What's your role in the Division of Biological Sciences?
I serve as the IT (information technology) systems, operations, networking and security lead for the division's on-premise and cloud-based IT infrastructures, comprised primarily of data storage for labs and admin staff, lab/program websites, physical (ID/iris scan) access management systems and hosting of all in-house-developed applications for divisional and campus use.
What does a typical day look like for you?
Most of my days involve meetings, trading many emails, coordinating with Biology Computer Services and campus IT Services staff, making configuration changes, patching/updating systems, creating/configuring accounts and helping Biological Sciences users troubleshoot issues. I also coordinate and work on a variety of projects to maintain and improve our infrastructure and services.
What do you enjoy most about your job?
I very much enjoy interacting with divisional and campus personnel to troubleshoot and solve problems in an ever-changing environment. There are always more projects to take on and more opportunities for improvement, so never a dull moment.
What advice do you have for someone starting out as a new staff member at UC San Diego?
Campus is a complex place with many, many people working towards a variety of goals and, ultimately, in support of UC San Diego's mission. It will take time and many conversations/emails before things start to make sense, so have patience, ask questions and keep notes whenever possible.
What is your favorite type of food?
This is a very difficult question for me! I enjoy all kinds of food and tend eat different cuisines regularly. I do enjoy fairly spicy food and currently stock at least a dozen different bottles of hot sauce.
Who is your hero and why?
My heroes are definitely my parents. They left their families and everything they had to emigrate from Iraq to the United States in 1999 so my sister and I could have a chance at a better life, overcoming numerous obstacles along the way. They started over at 40 and 50 years old with nothing but a couple of suitcases of clothes and about $1,000, which they used to buy a car so they could go to work while we all lived with a friend's family that was already here.
What's something most people don't know about you?
Up until the pandemic started, I would get together with friends from high school almost every Friday evening to play pen-and-paper Dungeons and Dragons. This had gone on for some 15 years, and we certainly hope to go back to it in the future.
Newsletter Issue 3: Spring 2022