Education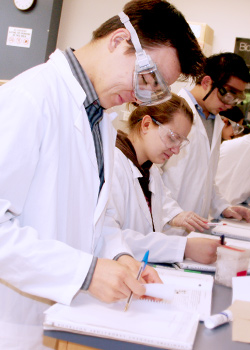 The School of Biological Sciences at UC San Diego contains 3 academic programs.
The doctoral program benefits from a partnership with the  Salk Institute for Biological Studies that  creates a powerful and closely linked intellectual community.
Undergraduate students graduating from our program will have a deep conceptual understanding of modern biology, strong practical and analytical skills, and the intellectual agility essential for lifelong learning.
Current UCSD undergraduate students who are enrolled in any of the Biology majors can choose this contiguous program which leads to a Master of Science Degree in Biology.
Concurrent enrollment allows individuals to take courses at UCSD without having to go through the traditional admissions process.
The Biological Sciences Co-Op program provides a yearlong immersive work experience for students in an industrial setting. Students receive customized training upon entering the program and receive staff and faculty mentoring throughout the year.