Who are we?
Director of the Center for Empathy and Social Justice in Human Health
Gentry Patrick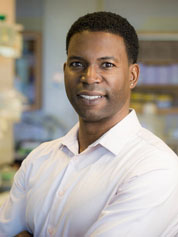 Dr. Patrick is a Professor and Vice Chair in the Neurobiology Section of the School of Biological Sciences at the University of California at San Diego. His lab studies how synapses are remodeled during normal brain function and dysfunction. He is also the newly appointed Director of the Center for Empathy and Social Justice in Human Health for the School of Biological Sciences and is the Associate Director of the Neurosciences Graduate Program (NGP) at UC San Diego. Dr. Patrick was born and raised in South Central Los Angeles where he attended King/Drew Medical Magnet high school in Watts, CA. He received his Ph.D. from Harvard University in 1999 after working in the laboratory of Dr. Li-Huei Tsai. He was a Damon Runyon Cancer Research Foundation and a United Negro College Fund/Merck postdoctoral fellow with Dr. Erin Schuman at California Institute of Technology. Dr. Patrick joined the UCSD faculty in 2004. He was the recipient of the 2010 Equal Opportunity/ Affirmative Action and Diversity Award. He is the PI of a recently renewed UC San Diego/Howard University Partnership for Graduate Student Success grant (UCOP-HBCU initiative). For this work, Dr. Patrick was recently selected (2015) as one of ten UC-wide recipients to receive an Award for Outstanding Faculty Leadership in Presidential Initiatives.
EDI Committee
The EDI Committee is comprised of faculty representatives from each section, staff representatives, and graduate representatives. It is the school's central point for all EDI matters pertaining to undergraduate and graduate students, faculty and staff. The committee bears key responsibility in supporting the School of Biological Sciences in:
Developing a shared and inclusive understanding of EDI
Creating an environment characterized by equal access and respected participation of all groups and individuals regardless of cultural, ethnic, racial, gender, age, language, religious, differences, abilities and disabilities, socioeconomics, and sexual orientation.
The committee has compiled a list of opportunities for faculty to contribute to EDI efforts and developed guidelines for how to organize and report contributions to EDI so that reviewers of faculty files can evaluate their significance.