Isaac Alexander Chaim
Starting July 2023
Research
The goal of the Chaim Lab is to establish novel and fundamental molecular knowledge and methodologies to explore the molecular basis of nucleic acid damage (RNA and DNA), its role in disease, namely in neurodegeneration, and cancer onset and treatment.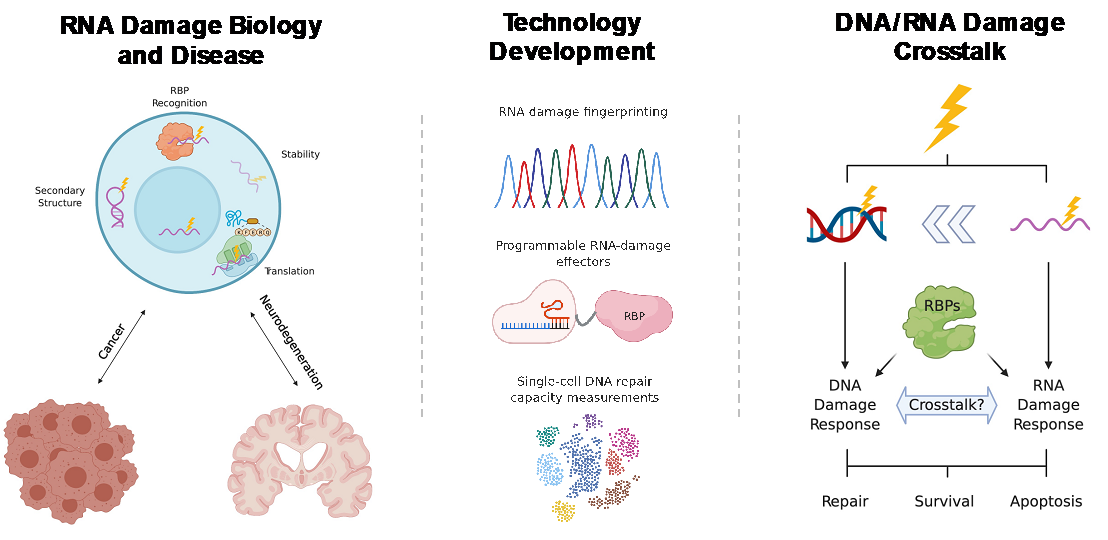 Go to full publication list
Select Publications
Ngo LP, Kaushal S, Chaim IA, Mazzucato P, Ricciardi C, Samson LD, Nagel ZD, Engelward BP (2021). CometChip analysis of human primary lymphocytes enables quantification of inter-individual differences in the kinetics of repair of oxidative DNA damage. Free Radic Biol Med 174, 89-99, doi:10.1016/j.freeradbiomed.2021.07.033. PMCID: PMC8477454.
Einstein JM, Perelis M, Chaim IA, Meena JK, Nussbacher JK, Tankka AT, Yee BA, Li H, Madrigal AA,Neill NK, Shankar A, Tyagi S, Westbrook TF, Yeo GW (2021). Inhibition of YTHDF2 triggers proteotoxic cell death in MYC-dependent cancer. Mol Cell 81, 3048-3064 e3049,doi:10.1016/j.molcel.2021.-06.014. PMCID: PMC8359670.
Brannan KW, Chaim IA, Marina RJ, Yee BA, Kofman ER, Lorenz DA, Jagannatha P, Dong KD,Madrigal AA, Underwood JG, Yeo GW (2021). Robust single-cell discovery of RNA targets of RNA binding proteins and ribosomes. Nat Methods 18, 507–519. https://doi.org/10.1038/s41592-021-01128-0. PMCID: PMC8148648
Trujillo CA, Rice ES, Schaefer NK, Chaim IA, Wheeler EC, Madrigal AA, Buchanan J, Preissl S, Wang A, Negraes PD, Szeto RA, Herai RH, Huseynov A, Ferraz MSA, Borges FS, Kihara AH, Byrne A, Marin M, Vollmers C, Brooks AN, Lautz JD, Semendeferi K, Shapiro B, Yeo GW, Smith SEP, Green RE, Muotri AR. Reintroduction of the archaic variant of NOVA1 in cortical organoids alters neurodevelopment. Science. 2021 Feb 12;371(6530). doi: 10.1126/science.aax2537. PubMed PMID: 33574182.
Koga T*, Chaim IA*, Benitez JA, Markmiller S, Parisian AD, Hevner RF, Turner KM, Hessenauer FM, D'Antonio M, Nguyen ND, Saberi S, Ma J, Miki S, Boyer AD, Ravits J, Frazer KA, Bafna V, Chen CC, Mischel PS, Yeo GW, Furnari FB. Longitudinal assessment of tumor development using cancer avatars derived from genetically engineered pluripotent stem cells. Nat Commun. 2020 Jan 28;11(1):550. doi: 10.1038/s41467-020-14312-1. PubMed PMID: 31992716; PubMed Central PMCID: PMC6987220.
Trujillo CA, Gao R, Negraes PD, Gu J, Buchanan J, Preissl S, Wang A, Wu W, Haddad GG, Chaim IA, Domissy A, Vandenberghe M, Devor A, Yeo GW, Voytek B, Muotri AR. Complex Oscillatory Waves Emerging from Cortical Organoids Model Early Human Brain Network Development. Cell Stem Cell. 2019 Oct 3;25(4):558-569.e7. doi: 10.1016/j.stem.2019.08.002. Epub 2019 Aug 29. PubMed PMID: 31474560; PubMed Central PMCID: PMC6778040.
Parrish MC, Chaim IA, Nagel ZD, Tannenbaum SR, Samson LD, Engelward BP. Nitric oxide induced S-nitrosation causes base excision repair imbalance. DNA Repair (Amst). 2018 Aug;68:25-33. doi: 10.1016/j.dnarep.2018.04.008. Epub 2018 May 5. PubMed PMID: 29929044; PubMed Central PMCID: PMC6436541.
Chaim IA, Nagel ZD, Jordan JJ, Mazzucato P, Ngo LP, Samson LD. In vivo measurements of interindividual differences in DNA glycosylases and APE1 activities. Proc Natl Acad Sci U S A. 2017 Nov 28;114(48):E10379-E10388. doi: 10.1073/pnas.1712032114. Epub 2017 Nov 9. PubMed PMID: 29122935; PubMed Central PMCID: PMC5715766.
Margulies CM, Chaim IA, Mazumder A, Criscione J, Samson LD. Alkylation induced cerebellar degeneration dependent on Aag and Parp1 does not occur via previously established cell death mechanisms. PLoS One. 2017;12(9):e0184619. doi: 10.1371/journal.pone.0184619. eCollection 2017. PubMed PMID: 28886188; PubMed Central PMCID: PMC5590993.
Batra R, Nelles DA, Pirie E, Blue SM, Marina RJ, Wang H, Chaim IA, Thomas JD, Zhang N, Nguyen V, Aigner S, Markmiller S, Xia G, Corbett KD, Swanson MS, Yeo GW. Elimination of Toxic Microsatellite Repeat Expansion RNA by RNA-Targeting Cas9. Cell. 2017 Aug 24;170(5):899-912.e10. doi: 10.1016/j.cell.2017.07.010. Epub 2017 Aug 10. PubMed PMID: 28803727; PubMed Central PMCID: PMC5873302.
Chaim IA, Gardner A, Wu J, Iyama T, Wilson DM 3rd, Samson LD. A novel role for transcription-coupled nucleotide excision repair for the in vivo repair of 3,N4-ethenocytosine. Nucleic Acids Res. 2017 Apr 7;45(6):3242-3252. doi: 10.1093/nar/gkx015. PubMed PMID: 28115629; PubMed Central PMCID: PMC5389632.
Nagel ZD, Kitange GJ, Gupta SK, Joughin BA, Chaim IA, Mazzucato P, Lauffenburger DA, Sarkaria JN, Samson LD. DNA Repair Capacity in Multiple Pathways Predicts Chemoresistance in Glioblastoma Multiforme. Cancer Res. 2017 Jan 1;77(1):198-206. doi: 10.1158/0008-5472.CAN-16-1151. Epub 2016 Oct 28. PubMed PMID: 27793847; PubMed Central PMCID: PMC6100738.
Nagel ZD, Chaim IA, Samson LD. Inter-individual variation in DNA repair capacity: a need for multi-pathway functional assays to promote translational DNA repair research. DNA Repair (Amst). 2014 Jul;19:199-213. doi: 10.1016/j.dnarep.2014.03.009. Epub 2014 Apr 26. PubMed PMID: 24780560; PubMed Central PMCID: PMC4071454.
Chaim IA, Sabino MA, Mendt M, Müller AJ, Ajami D. Evaluation of the potential of novel PCL-PPDX biodegradable scaffolds as support materials for cartilage tissue engineering. J Tissue Eng Regen Med. 2012 Apr;6(4):272-9. doi: 10.1002/term.430. Epub 2011 May 5. PubMed PMID: 21548137.
Biography
Born and raised in Caracas, Venezuela, Alex graduated from the Universidad Simón Bolívar in Caracas with a B.S. in Biology where he researched novel biodegradable three-dimensional scaffolds for their use in cartilage tissue engineering. Alex then joined the Department of Biological Engineering at the Massachusetts Institute of Technology (MIT) in Cambridge, MA for his graduate studies. As part of his Ph.D. in Leona Samson's Laboratory, Alex tried to answer the question: why do some individuals develop cancer and degenerative disease while others remain healthy? He focused on the study of cellular DNA repair capacity to tackle this question and development molecular tools to measure inter-individual differences in DNA repair capacity. Alex then joined Gene Yeo's laboratory at the University of California, San Diego (UCSD) as a postdoctoral fellow where he worked in understanding the effect of nucleic acid damage on RNA Binding Protein (RBP) biology during the development of neurodegenerative diseases as well as in Autism and Cancer treatment. During his tenure in the Yeo Lab, Alex also established single cell technologies for the study of RNA-RBP interactions. During his postdoc, Alex was an NIH/NIGMS K12 – IRACDA, UC San Diego Chancellor's and NINDS K99 Pathway to Independence Postdoctoral Fellow. Alex deeply enjoys mentoring and has done so at all stages of his career. He believes that his own mentors played a very important part in his training and development as a person and a scientist and that he wouldn't be where he is right now without their help, support and patience.
Education
Ph.D. Biological Engineering – Massachusetts Institute of Technology
B.S. Biology – Universidad Simón Bolivar