Noah Rose
Research
Mosquitoes are the deadliest animals on Earth, but out of thousands of species, just a few are responsible for the vast majority of human disease – those species that have recently adapted to specialize in biting and living around humans. We use a combination of population genomics and field ecology, supplemented with behavioral, physiological, and developmental work in a controlled laboratory environment to study how mosquitoes have come to thrive in the human niche, and how this shapes the spread of human disease. Our work spans multiple timescales, ranging from evolutionary responses of mosquitoes to the development of human societies over millennia, to rapid adaptation to growing urban environments in the present day, up to ecological and evolutionary shifts taking place across months. Similarly, we work across multiple spatial scales, ranging from global invasions to the ecology of microhabitats.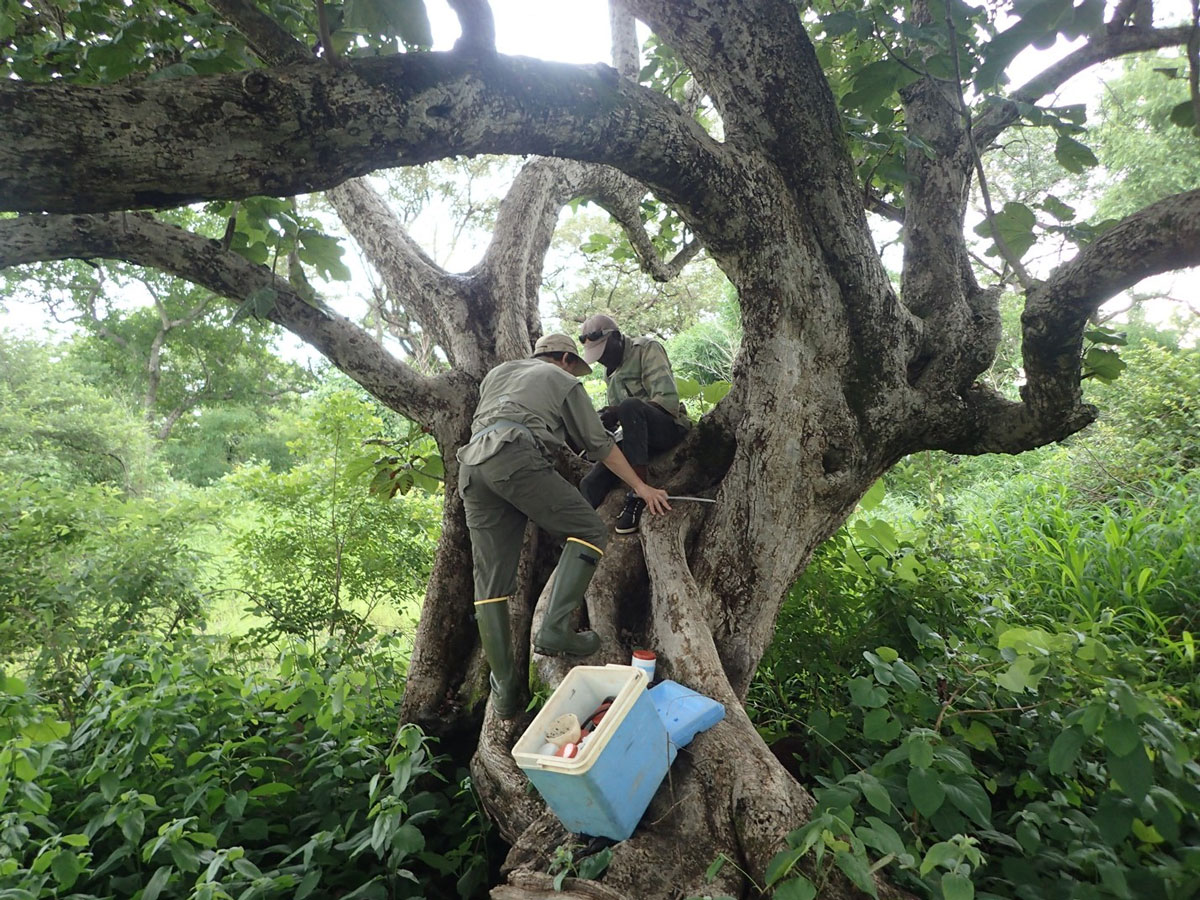 Massamba Sylla, 2018
Publications
Rose NH*, Dabo S*, da Veiga Leal S, Sylla M, Diagne CT, Faye O, Sall AA, McBride CS, Lambrechts L (2022) Enhanced mosquito vectorial capacity underlies the Cape Verde Zika epidemic. PLoS Biol 20(10): e3001864. https://doi.org/10.1371/journal.pbio.3001864. *These authors contributed equally.
Aubry F, Dabo S, Manet C, Filipović I, Rose NH, Miot EF, Martynow D, Baidaliuk A, Merkling SH, Dickson LB, Crist AB, Anyango VO, Romero-Vivas CM, Vega-Rúa A, Dusfour I, Jiolle D, Paupy C, Mayanja MN, Lutwama JJ, Kohl A, Duong V, Ponlawat A, Sylla M, Akorli J, Otoo S, Lutomiah J, Sang R, Mutebi JP, Cao-Lormeau VM, Jarman RG, Diagne CT, Faye O, Faye O, Sall AA, McBride CS, Montagutelli X, Rašić G, Lambrechts L. Enhanced Zika virus susceptibility of globally invasive Aedes aegypti populations. Science. 2020 Nov 20;370(6519):991-996. doi: 10.1126/science.abd3663. PMID: 33214283.
Rose NH, Sylla M, Badolo A, Lutomiah J, Ayala D, Aribodor OB, Ibe N, Akorli J, Otoo S, Mutebi JP, Kriete AL, Ewing EG, Sang R, Gloria-Soria A, Powell JR, Baker RE, White BJ, Crawford JE, McBride CS. Climate and Urbanization Drive Mosquito Preference for Humans. Curr Biol. 2020 Sep 21;30(18):3570-3579.e6. doi: 10.1016/j.cub.2020.06.092. Epub 2020 Jul 23. PMID: 32707056; PMCID: PMC7511451.
Matthews BJ, Dudchenko O, Kingan SB, Koren S, Antoshechkin I, Crawford JE, Glassford WJ, Herre M, Redmond SN, Rose NH, Weedall GD, Wu Y, Batra SS, Brito-Sierra CA, Buckingham SD, Campbell CL, Chan S, Cox E, Evans BR, Fansiri T, Filipović I, Fontaine A, Gloria-Soria A, Hall R, Joardar VS, Jones AK, Kay RGG, Kodali VK, Lee J, Lycett GJ, Mitchell SN, Muehling J, Murphy MR, Omer AD, Partridge FA, Peluso P, Aiden AP, Ramasamy V, Rašić G, Roy S, Saavedra-Rodriguez K, Sharan S, Sharma A, Smith ML, Turner J, Weakley AM, Zhao Z, Akbari OS, Black WC 4th, Cao H, Darby AC, Hill CA, Johnston JS, Murphy TD, Raikhel AS, Sattelle DB, Sharakhov IV, White BJ, Zhao L, Aiden EL, Mann RS, Lambrechts L, Powell JR, Sharakhova MV, Tu Z, Robertson HM, McBride CS, Hastie AR, Korlach J, Neafsey DE, Phillippy AM, Vosshall LB. Improved reference genome of Aedes aegypti informs arbovirus vector control. Nature. 2018 Nov;563(7732):501-507. doi: 10.1038/s41586-018-0692-z. Epub 2018 Nov 14. PMID: 30429615; PMCID: PMC6421076.
Rose NH, Bay RA, Morikawa MK, Thomas L, Sheets EA, Palumbi SR. Genomic analysis of distinct bleaching tolerances among cryptic coral species. Proc Biol Sci. 2021 Oct 13;288(1960):20210678. doi: 10.1098/rspb.2021.0678. Epub 2021 Oct 13. PMID: 34641729; PMCID: PMC8511746.
Rose NH, Bay RA, Morikawa MK, Palumbi SR. Polygenic evolution drives species divergence and climate adaptation in corals. Evolution. 2018 Jan;72(1):82-94. doi: 10.1111/evo.13385. Epub 2017 Nov 24. PMID: 29098686.
Bay RA, Rose NH, Logan CA, Palumbi SR. Genomic models predict successful coral adaptation if future ocean warming rates are reduced. Sci Adv. 2017 Nov 1;3(11):e1701413. doi: 10.1126/sciadv.1701413. PMID: 29109975; PMCID: PMC5665595.
Bay RA*, Rose N*, Barrett R, Bernatchez L, Ghalambor CK, Lasky JR, Brem RB, Palumbi SR, Ralph P. Predicting Responses to Contemporary Environmental Change Using Evolutionary Response Architectures. Am Nat. 2017 May;189(5):463-473. doi: 10.1086/691233. Epub 2017 Mar 17. PMID: 28410032. *These authors contributed equally.
Biography
Noah Rose carried out his Ph.D. research as an NSF Graduate Research Fellow with Stephen Palumbi at Stanford University and was a Helen Hay Whitney Postdoctoral Fellow in Lindy McBride's group at Princeton University. He will join the UCSD EBE faculty in 2023.