Kuffler Lecture Series History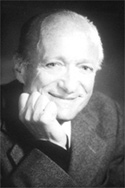 Stephen W. Kuffler was the first chairman of the Department of Neurobiology at Harvard University. He was a legendary figure both for his vision in launching a new field and for his numerous scientific contributions. The Kuffler Lecture Series at UC San Diego was started by Professor Mu-ming Poo, a former faculty member of neurobiology and the inaugural holder of the Stephen W. Kuffler endowed chair. David Hubel, a Nobel Laureate for his pathbreaking work on the visual system with Torsten Wiesel, was the first lecturer in 1998. Subsequent speakers are shown below and include 8 Nobel Laureates.
The 2013 Kuffler Lecture Series & Dinner was generously supported by the Ray Thomas Edwards Foundation.