2023 Kuffler Lectures

Cancelled
David J. Anderson
Brain States Underlying Innate Social Behaviors
"Neural Control of Innate Social Behaviors and Underlying Internal States"
Wednesday, April 12 th, 4:00 pm
Lower Auditorium, Telemedicine Building, UC San Diego
"Sexually Dimorphic Control of Innate Social Behaviors"
Thursday, April 13 th, 4:00 p.m.
Lower Auditorium, Telemedicine Building, UC San Diego
The lectures are open to the public. No RSVP required.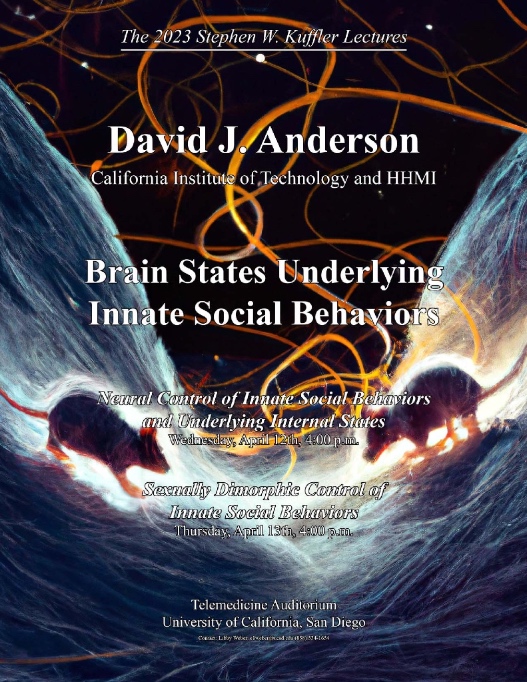 Download this event poster
---
About the Lecturer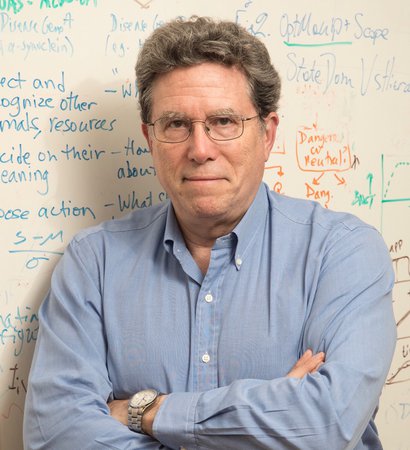 David J. Anderson's research group is aimed at understanding the neurobiology of emotion. He seeks to elucidate how fundamental properties common to emotional states, such as persistence, scalability, and valence, are encoded in the circuitry and chemistry of the brain and how these internal states combine with sensory stimuli to elicit specific emotional behaviors, such as fear or aggression. Dr. Anderson is Seymour Benzer Professor of Biology at the California Institute of Technology, where he has been on the faculty since 1986. He is also Director and Leadership Chair of the Tianqiao and Chrissy Chen Institute for Neuroscience, a HHMI Investigator, a member of the US National Academy of Sciences, and also played a key advisory role in the initial foundation of the Allan Institute for Brain Sciences and the Allen Brain Atlas and now serves on their Scientific Advisory Board, as well as on the Advisory Council for Project MindScope and the Connectional Atlas. He is the recipient of numerous honors, including the Edward M. Scolnick Prize in Neuroscience, the Thomas Salmon Award, the Perl-UNC Neuroscience Prize, the Abraham Spector Prize, and the Givauden Prize, ACHEMS. He has written for the New York Times, appeared on All Things Considered, and his TED talk on emotion has been viewed more than 1.5 million times.
The 2023 Kuffler Lectures are hosted by Sue Ackerman.