Nick Spitzer Receives Eight-Year NIH-NINDS Research Program Award
Funding will allow new research on neurotransmitter switching throughout the brain and changes in behavior
May 18, 2020
By Mario Aguilera and National Institute of Neurological Disorders and Stroke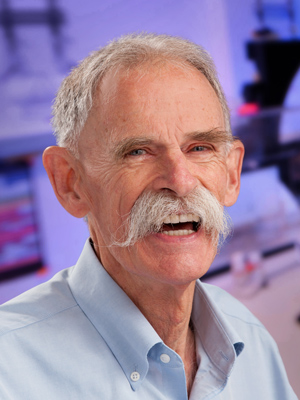 UC San Diego Biological Sciences Professor Nick Spitzer, who has pioneered research on neurotransmitter switching in the adult mammalian brain, has been awarded an eight-year award from the National Institute of Neurological Disorders and Stroke (NINDS), part of the National Institutes of Health.
Funding from the NINDS R35 Research Program Award (RPA) provides recipients with support to enhance funding stability, facilitate flexible research environments and provide freedom to pursue long-term projects or embark on groundbreaking research.
Spitzer, the Atkinson Family Chair in the Biological Sciences Section of Neurobiology and a director of the Kavli Institute for Brain and Mind, has led groundbreaking research on the ability of neurons to change their transmitter identity in response to sustained stimuli, typically leading to changes in behavior. This neurotransmitter switching is a newly appreciated form of plasticity in the adult brain that can underlie both beneficial and harmful behaviors. The Spitzer lab discovered that a single stimulus can drive transmitter switching in more than a single brain region. Recently, Spitzer and Hui-quan Li identified the components of neurotransmitter switching following sustained exercise. Comparing the brains of mice that exercised with those that did not, Li and Spitzer found the specific neurons that switched and led to improved learning for motor-skill acquisition.
The sustained, long-term support of the R35 will enable Spitzer to use genetically-encoded fluorescent reporters to determine the full extent of transmitter switching throughout the whole brain and identify the role of patterns of electrical activity that drive these changes in brain function and the ensuing behaviors.
The newest group of R35 RPA scientists represents a range of neuroscience research interests, including understanding the mechanisms of hemorrhagic stroke; taking a detailed look at how motor circuits are put together; developing strategies to improve remyelination in multiple sclerosis; and identifying new cerebellar functions.
"The goal is to boost scientific productivity in pursuit of the NINDS mission. We want to get investigators away from their desks and back to the bench or clinic to more effectively mentor trainees, and conduct innovative studies that will improve our understanding of the brain and ultimately help us reduce the burden of neurological diseases," said Walter Koroshetz, M.D., director of NINDS. "We look forward to ongoing scientific advances from the more than 70 investigators that have been funded by R35 grants and hope these awards provide them the time and resources to engage in the lab or research clinic and execute rigorous science."
The RPA launched in 2015 as an alternative to the R01, the Research Project Grant (RPG) which makes up most NIH grants. RPGs typically last for a period between three and five years and are awarded to support a single specific project idea. Many labs need to have multiple RPGs to support their work across multiple projects, resulting in investigators spending much of their time writing grant applications.
The RPA provides funding for a research program for up to eight years. The grant is not limited to supporting a specific project in order to enhance the freedom of investigators to pursue interesting scientific leads. One of the goals of the RPA is to encourage exciting long-term projects that would not be possible with the R01 grant.
Investigators who have had five years of recent R01 support from NINDS are eligible for R35 RPA support.
"We encourage eligible investigators to work with their institutions to apply, particularly early-career investigators, and researchers from underrepresented groups including women and minorities," said Koroshetz.
Although NINDS has a strong commitment to promoting diversity in the neuroscience workforce, in previous years, less than 30 percent of R35 investigators were women. NINDS is seeking to promote diversity in the R35 program, not only with respect to research methodology and area of study, but also with respect to investigator background and career stage.
For more information and see the full award list, visit:
https://www.ninds.nih.gov/Funding/About-Funding/Research-Program-Award-R35