Diana Rennison Honored with Two Early Career Awards
BioSci assistant professor studies biodiversity using a mix of approaches
December 21, 2020
By Mario Aguilera
Division of Biological Sciences Assistant Professor Diana Rennison was honored with two early career awards in 2020.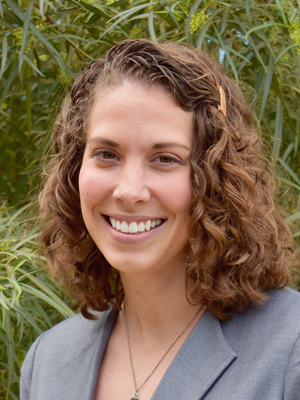 Rennison, who joined the Section of Ecology, Behavior and Evolution in 2019, leads a lab that investigates the evolution and maintenance of biodiversity. She studies biodiversity processes using approaches applied from evolution, ecology, population genomics and theory. 
She was honored with the  American Society of Naturalists' Jasper Loftus-Hill Young Investigator's Award, which recognizes "outstanding promise and accomplishments of young investigators who conduct integrative work in ecology, evolution, behavioral ecology and genetics." Established in 1984, the award honors the exceptional work of scientists who recently received their doctorates or who are in their final year of graduate school. The award commemorates Jasper Loftus-Hills (1946-1974), an Australian biologist who tragically died while conducting fieldwork three years after receiving his degree. 
Separately, Rennison won the  early career award from the Canadian Society for Ecology and Evolution (CSEE). The award recognizes "outstanding accomplishments and promising future research potential in ecology and evolution by scientists early in their careers." Rennison and a second early career award winner gave a plenary presentation at the annual CSEE meeting (available here:  https://youtu.be/iw7b1ygux2g). 
Originally from Courtenay, British Columbia, Canada, Rennison completed her PhD at the University of British Columbia, where she studied the genetic basis of adaptation in a fish known as the threespine stickleback. Her postdoctoral work was conducted during a Marie Sklodowska-Curie Fellowship at the University of Bern in Switzerland. Her research there included parallel genomic differentiation and genetic sources of evolutionary constraint.