NIH Awards UC San Diego $8.7M to Train a New Generation of Biological Sciences Graduate Students
Preparing a diverse pool of biologists for a new age requires emphasis on equity, diversity and inclusion, communication and leadership
January 20, 2021
By Mario Aguilera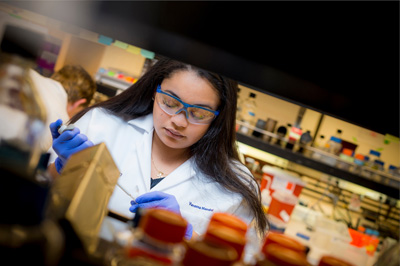 Rigorous academic and research preparation remain at the core of UC San Diego's Biological Sciences graduate (PhD) student training. Now, through an $8.7 million 5-year grant from the National Institute of General Medical Sciences, training a new generation of select graduate students will look markedly different from traditional training programs.
In an effort to cultivate 21st century scientific leaders, the new Pathways in Biological Sciences (PiBS) program will require students to broaden their training through a range of new skills, spanning ethics to communication. An initial group of 30 PiBS graduate students will train through this enhanced pathway, designed to address the most pressing challenges in modern biology and produce leaders in an array of biology-oriented careers, including academic and industrial research, education, writing, consulting and policy. The program is designed to instill critical scientific, leadership and communication skills, while imparting a strong and proactive sense of inclusion and diversity.
In creating their vision for PiBS, the program's leaders sought to maximize the trainee pool with a diverse mix of graduate students from underrepresented groups, both to foster distinct and creative viewpoints and to create a broad spectrum of future leaders in a range of careers in biology.
Deborah Yelon, a professor in the Section of Cell and Developmental Biology and one of the three co-directors of PiBS, said creating the next generation of academic researchers requires a broader approach beyond core academic training. These include arenas such as proficiency in disseminating information that's crucial for the public.
"We have structured PiBS to ensure that students have a really well-rounded set of competencies beyond the bench," said Yelon, "Essential components of this new training include ethical conduct, awareness in equity, diversity and inclusion and a special emphasis on rigor and reproducibility in science. Society is more scientifically literate today and our trainees will be able to contribute to that in many ways."
Students are invited to become PiBS trainees after their first year of graduate training. The program targets six core competencies: critical thinking, knowledge acquisition, experimental ability with emphasis on rigor, reproducibility and quantitation, effective communication, leadership tools including team building, networking and collaborative problem solving and career development.
"We believe that these six core competencies define skills that are essential for any PhD student to embark on a successful career in science, whether that aspiration is in academia, education, biotech, law, government, journalism, consulting or the many other professions pursued by our trainees," said Amy Pasquinelli, a professor in the Section of Molecular Biology and one of the co-directors of PiBS.
PiBS was developed on the shoulders of a successful Cell and Molecular Genetics Training Program at UC San Diego that spanned more than 40 years.
The PiBS training program is part of the Division of Biological Sciences doctoral training program run in partnership with the Salk Institute. Several innovative aspects of the PiBS program have been integrated into the overall doctoral program, including a refreshed first year curriculum organized around the six core competencies.
"It is remarkable and a great honor to be involved in an evolving training program with such a long and illustrious history," said Randy Hampton, a professor in the Section of Cell and Developmental Biology and PiBS faculty co-leader. "The challenge is to keep our program at the leading edge of biomedical training, as the science creates an ever-growing number of approaches and careers to address the biggest problems facing society. The two things that are constant in this dynamic process are the incredible talents of both the UC San Diego graduate students and their faculty mentors. They are the engine of success that drives our training program."