Danielle Garshott and Sachin Sethi Honored with Founding Faculty Awards
April 23, 2021
By Mario Aguilera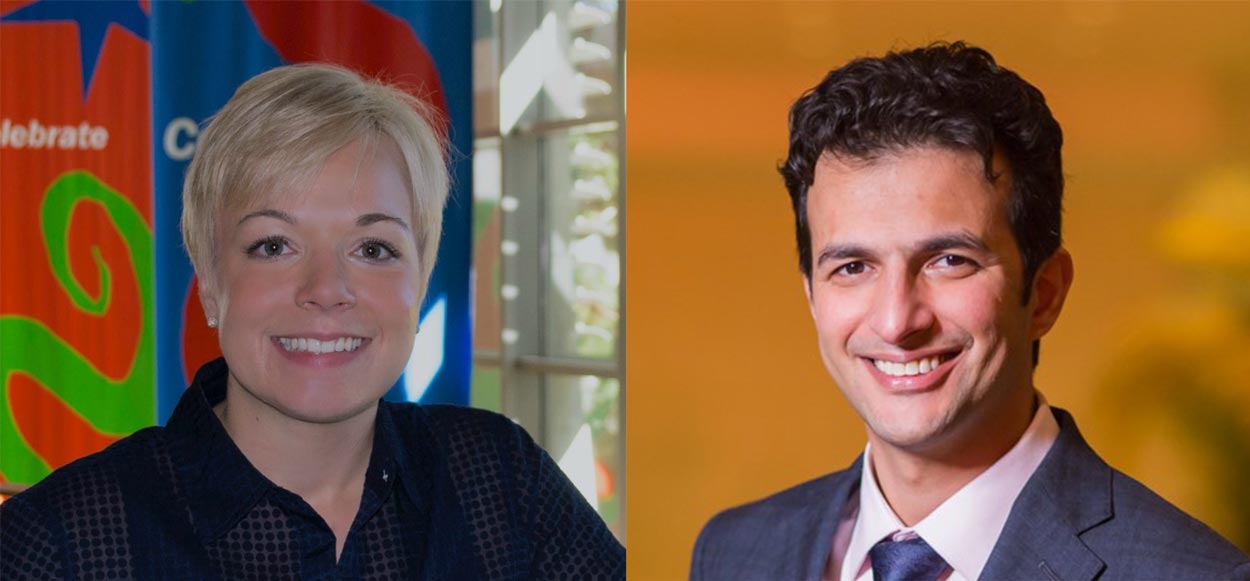 Danielle Garshott and Sachin Sethi have been selected to receive the 2020-2021 Founding Faculty Awards for Graduate Excellence by UC San Diego's Division of Biological Sciences.
First awarded in 2015, Founding Faculty Awards are bestowed through an endowment established by some of the first members of the Division of Biological Sciences, which was established in 1960. The honorees are chosen by a committee of emeritus faculty representatives from each of the division's four academic sections. Biological Sciences Dean Kit Pogliano, and Professor Emeritus Stuart Brody, who chairs the awards committee, bestowed the awards in a virtual event held on March 22 attended by students, staff, alumni, faculty and friends.
Garshott, a fifth-year graduate student in Associate Professor Eric Bennett's laboratory, was honored for "Distinct regulatory ribosomal ubiquitylation events are reversible and hierarchically organized," a paper published in the journal eLife. The research describes how quality control mechanisms inside cells help clear collisions that can lead to disorders and disease (more on the study can be found here). Understanding more about such quality control pathways and the molecular mechanisms involved in maintaining the health of cells is critical to better understanding and identifying potential therapeutic targets when systems fail.
Sachin earned his PhD in Professor Jing Wang's laboratory in 2019. Currently a postdoctoral associate at Rockefeller University in New York, Sachin was recognized for "Social Context Enhances Hormonal Modulation of Pheromone Detection in Drosophila," a paper published in Current Biology. The research addresses evolutionary fitness, and in particular how animals regulate social behaviors by integrating external and internal signals. Sachin and his co-authors found that population density and age influence courtship behavior in male Drosophila melanogaster flies. At Rockefeller University, Sachin is working on understanding neural computations underlying spatial navigation.
Photos of Founding Faculty honorees are featured in UC San Diego's Bonner Hall lobby.
The Division of Biological Sciences is currently celebrating its 60th anniversary. Read more about the founding days and initial vision of the division in this Triton Magazine story featuring the recollections of Stu Brody, Don Helinski and Mel Simon. Learn more about A Deep Look into the Future of Biology, the division's 60th anniversary event series. See the full lineup of past Deep Look events here.