Fundraising Campaign Gives Kendall-Frost Marsh a Fresh Start
Philanthropy supports construction of a new field station for education, research, community activities and recognition of the region's indigenous roots
July 19, 2021
By Mario Aguilera
San Diego holds a living piece of the natural abundance of marshland that once was our waterfront… and could be again. Only a fraction of wild marsh remains of the thousands of acres of wetland habitat that naturally thrived across a swath of Mission Bay less than a century ago.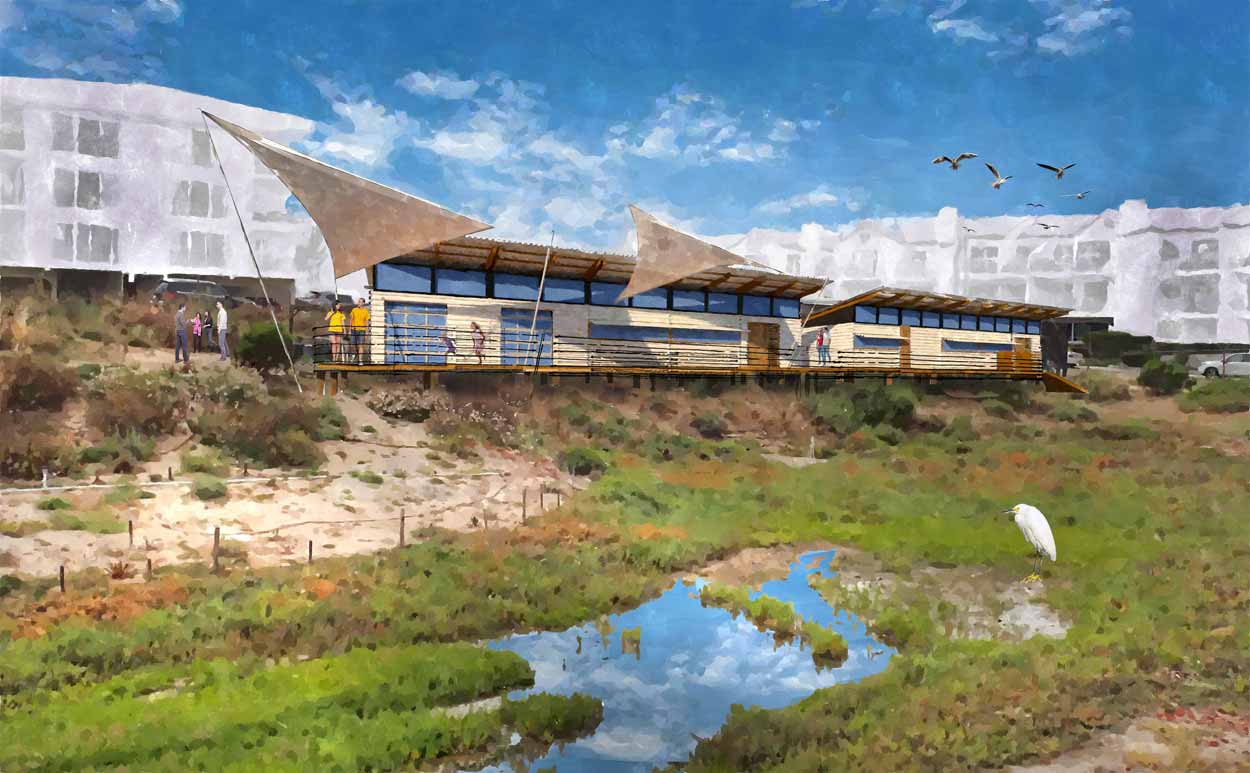 Yet the small fragment that remains—the Kendall-Frost Mission Bay Marsh Reserve, part of UC San Diego's Natural Reserve System—provides many things to many people. It's an educational facility, offering a "classroom without walls" for regional science students exploring nature. It's a research hub offering a rare location to investigate pollutants, fish ecology, climate change and endangered animals, among other topics. It also offers a vision for preparing for the impacts of climate change as a green wall against sea level rise, a store of carbon to offset San Diego's carbon emissions, a laboratory for restoring our region's fisheries and a way to connect all of us to Mission Bay.
Although its origins date back to the 1940s, the Kendall-Frost Marsh Reserve today is considered more valuable than ever. From a critical cultural perspective, the marsh is being recognized as a historic link of opportunity to restore the traditions of native Kumeyaay populations that originally inhabited the San Diego region.
To adequately serve this assortment of needs, the reserve's outreach capacity recently found itself in desperate need of a 21st century makeover. UC San Diego officials put out a call in 2019 to raise funds to replace a dilapidated trailer that has served as the marsh's laboratory for more than 50 years. Donors answered the call.
A philanthropic campaign raised more than $1.7 million to build a new multipurpose learning center and field station at the entrance to the reserve. The new Kendall-Frost Marsh Reserve Field Station and Learning Center, with construction kicking off in 2022, offers flexible space as a modern laboratory, classroom, observation deck and community event center.
"Kendall-Frost Marsh Reserve directly connects our university to our community, so I'm extremely grateful to those who donated to the new Kendall-Frost Marsh Reserve Field Station and Learning Center. Their support helps make the new building a reality," said Division of Biological Sciences Dean Kit Pogliano. "Wetlands like Kendall-Frost protect us from sea-level rise, form critical habitats for endangered species and offer breeding grounds for commercially important fish. The goal of this project is to build a new space for research and community engagement, and also to build the partnerships needed to make San Diego a leader in responding to climate change and restoring these critical marsh habitats that are so threatened globally."
The superpowers of a vanishing marsh
As executive director of UC San Diego's Natural Reserve System, Heather Henter coordinates the education and outreach activities at Kendall-Frost Marsh Reserve.
In describing the unique value of the marsh, she points to facts such as its role in addressing climate change. The marsh's wet, muddy ecosystem makes it a natural place to capture and store carbon.
"It's a superpower," said Henter. "Saltmarshes sequester more carbon than a mature forest of the same size in the same area."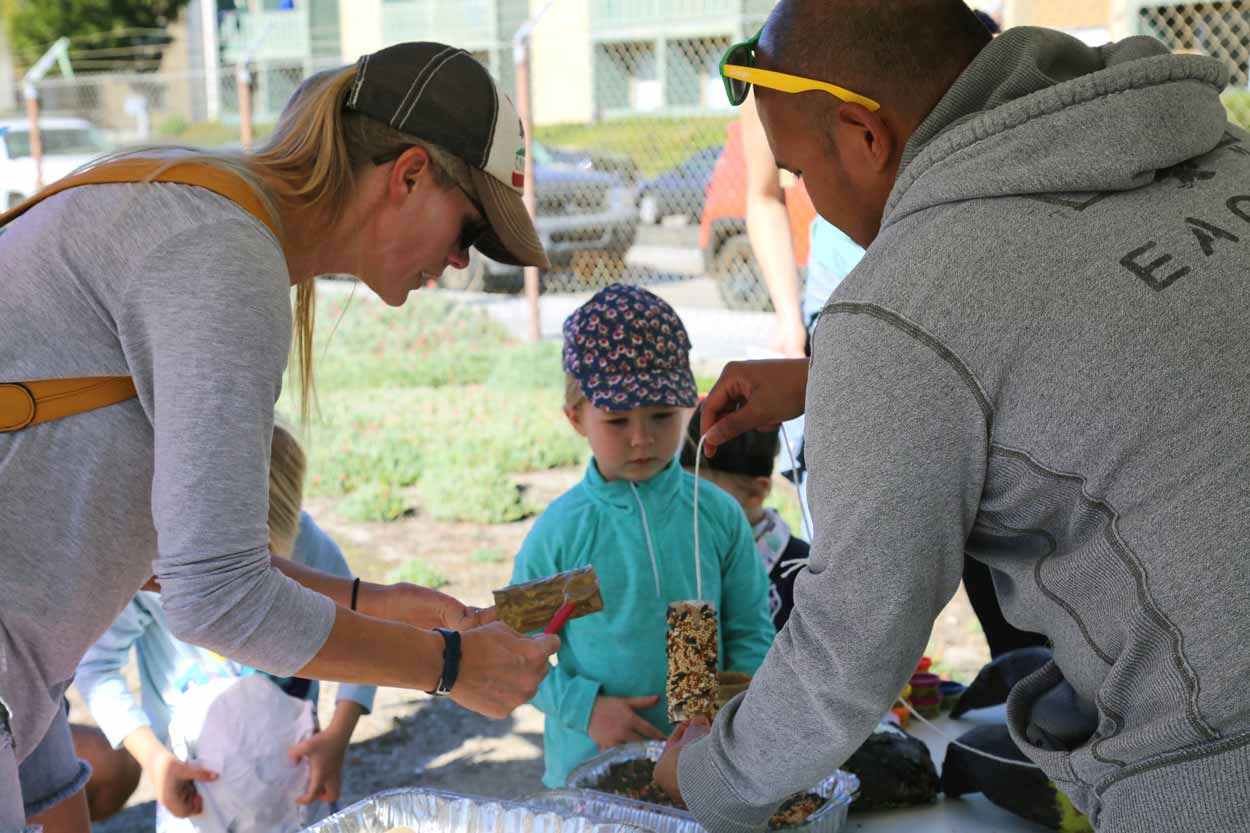 But such habitats have dwindled in California. Nearly 90 percent of the state's marshland has vanished. In Mission Bay, only 40 acres remain of the 40,000 acres that spanned the area in the 1930s. At the current rate of loss, researchers predict that saltmarsh habitats will ultimately face extinction in California and Oregon by 2100.
That estimate translates to trouble for a host of organisms that are uniquely suited for life in the Kendall-Frost Marsh Reserve habitat, including the Ridgway's rail and Belding's Savannah sparrow, two endangered birds that are wetland specialists.
"These birds really depend on marshlands like Kendall-Frost for the very survival of their species," said Henter.
That's where education comes into play. Teaching new generations about the value of reserves such as Kendall-Frost Marsh can help societies take action to protect and restore sensitive habitats. Henter sees the marsh as an outdoor classroom that offers a window into the history of California.
"I love teaching at the marsh," she said, "because students always say it's the favorite thing they did during their courses."
She also helps coordinate hundreds of volunteers who come to the marsh for events such as the annual Love Your Wetlands day to help clean up the marsh by foot and by kayak.
The new field station will be a game-changing asset in coordinating such activities in the future, thanks to donors such as Henter's mother Annette, who made several donations to support the construction of the field station. Longtime university supporters Julia Brown and Edie Munk also made significant contributions to the effort and rallied support from community members.
"The hallmark of this new building is that it will have both public and private space," said Henter. There's research work space and a multipurpose room that's built to be as flexible as possible. You could have groups of kindergartners or high school students at one time, then a  public lecture and a community reception. We envision this space being used by any number of groups involved with the marsh."
Economic value, priceless cultural connections
Richard Norris, the academic coordinator for UC San Diego's Natural Reserve System and a professor at Scripps Institution of Oceanography, offers staggering reminders of the economic and scientific value of Kendall-Frost Marsh Reserve.
A key issue he highlights is the devastating economic losses expected as a result of climate change. Mission Bay's liability due to projected sea level rise, storm surges and flooding has been assessed by the City of San Diego at more than $500 billion in the next 10 years, rising to more than $1 billion by the end of the century.
How does the city mitigate such impacts to avoid such devastating losses in the future?
Norris offers a plan to create a "living shoreline" that would expand the marsh across Mission Bay to help protect residences, businesses, high school, golf course and other properties from future rising tides.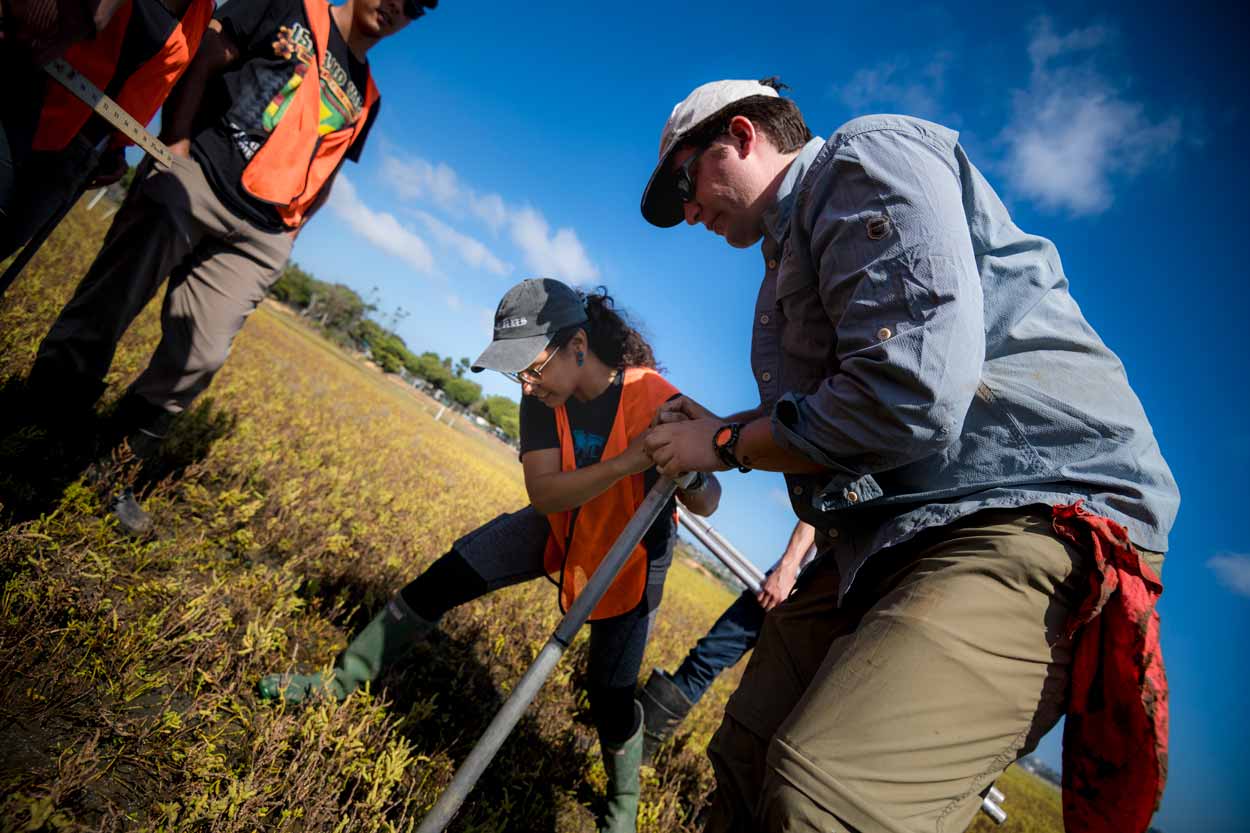 "The idea is to build up a marsh that would act as a natural, green wall against floods and rising tides," said Norris.
He is also working on a project to demonstrate the economic value of carbon sequestration— captured in the form of plants that die and build up the soil—which is a natural function of Kendall-Frost Marsh. On a recent weekend Norris and his colleagues extracted sediment cores from the marsh in the initial phase of a carbon sequestration economic valuation project. Results from the core analysis and data from related experiments will allow scientists gauge how much carbon can be stored at Kendall-Frost to help the city grasp the potential value of expanding the marsh habitat.
"Our preliminary assessment," says Norris, "is that the carbon buried in the marsh is worth millions of dollars to the city, a value that could increase a lot if we restore marsh along the northern shore of Mission Bay."
Other ways the marsh offers economic value is through water purification since the marsh acts as a natural filter, hosting the early development life stages for commercially valuable fish and the financial influx from ecotourism related to bird watching and other marsh activities. Elevated boardwalks that allow marsh access would also connect the community to Mission Bay and increase the value of real estate in the area.
Beyond research, education and economic value, Norris views the Kendall-Frost Marsh, along with the other components of the UC San Diego Natural Reserve System, as a way to reconnect indigenous Kumeyaay people with their cultural traditions. The Kumeyaay historically accessed resources in the desert, mountains and coastline at various times of the year.
"We can help establish that 'desert to sea' connection again with them," said Norris. "The new field station and education center that we are building is ideal for this purpose." Norris has been in discussions with representatives of the Kumeyaay Nation to evaluate how the cultural link to the coast can be re-established through the reserves.
"San Diego can be the global leader through this field station project," said Pogliano. "With the support of our generous donors, we position San Diego as the leader in restoring this critical habitat to enhance biodiversity; protect coastal communities from sea-level rise; and restore the connections of native peoples to their lands."