Jen Jin Receives A.P. Giannini Foundation Postdoctoral Fellowship
December 7, 2021
By Mario Aguilera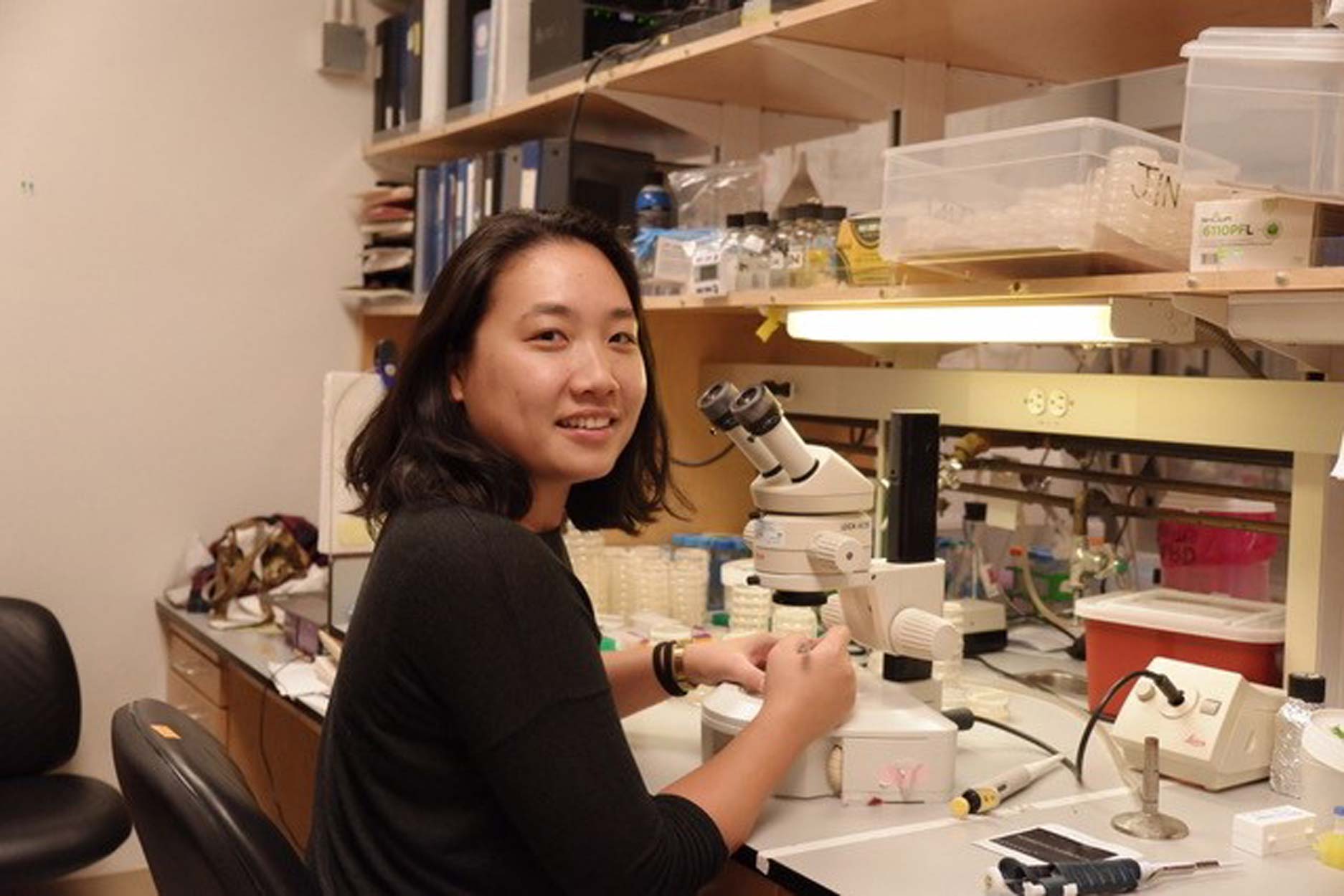 Christina Han
Jen Jin, a postdoctoral scholar in UC San Diego's Division of Biological Sciences, has been awarded a fellowship from the A.P. Giannini Foundation in support of her research on the brain's circuit connections.
The foundation was established by Amadeo Peter ("A.P.") Giannini, a California-born businessman and Bank of America founder. He created the A.P. Giannini Foundation in support of innovative postdoctoral researchers to advance biomedical sciences for treatments, preventions and cures for human diseases.
The A.P. Giannini Postdoctoral Fellowship in California provides three years of postdoctoral salary support as well as career development training to prepare Giannini fellows to become future leaders. The program includes communications, leadership and professional effectiveness training. Fellows form a cohort to create a learning community and receive individualized and group training.
Jen Jin was awarded the 2021 fellowship in support of her research training with Neurobiology Section Professor Yishi Jin in the Division of Biological Sciences and School of Medicine, UC San Diego. Jen Jin's research uses laboratory roundworms (C. elegans) to understand how the brain regulates the timing of developmental neural circuit remodeling. The brain's ability to remodel circuit connections in response to changes in brain activity allows us to learn and adapt to the environment.
The brain is most flexible during early development, which is why learning is often much easier for children than adults. Jen's long-term research goals are to discover how to extend this developmental "plasticity" later in life and to apply this knowledge to prevent and treat neurological disorders, including learning disabilities and brain injuries.
The Giannini Foundation annually awards six to eight new fellowships. Applications are peer-reviewed by a scientific advisory committee comprised of representatives from seven California medical schools. Finalists are selected for a 15-minute interview with the scientific advisory committee and board of directors, including members of the Giannini family and representatives from Bank of America as well as the healthcare and biotechnology industries.
Jen Jin graduated from Reed College and trained under Professor Robin Hiesinger at the University of Texas Southwestern and Freie University in Berlin, Germany for her graduate studies. Her graduate research focused on understanding the roles of endo-lysosomal function in the maintenance of neuronal health in Drosophila sensory neurons. She was a trainee of an NIH T32 training program at UT Southwestern and was awarded a NIH/NINDS NRSA F31 predoctoral fellowship. Jen Jin joined Professor Yishi Jin's laboratory in August 2019, and was a trainee in the NIH T32 neural circuits postdoctoral training program at UC San Diego.
About the A.P. Giannini Foundation:
A.P. Giannini created the A.P. Giannini Foundation in 1945 to support innovative postdoctoral researchers to advance biomedical sciences for treatments, preventions and cures for human diseases. The Foundation has supported more than 1,000 postdoctoral fellows in California medical schools, many of whom are now leading biomedical research investigators in academia and industry.
— With information from the A.P. Giannini Foundation