Jose Pruneda-Paz Honored with 2023 Outstanding Faculty Mentor Award
October 3, 2023
By Mario Aguilera
Jose Pruneda-Paz, an associate professor in the School of Biological Sciences, has been honored with a 2023 Outstanding Faculty Mentor Award by UC San Diego's Undergraduate Research Hub (URH).
The URH announced the award during its 2023 Online Undergraduate Research Symposium.
Pruneda-Paz, a faculty member in the Department of Cell and Developmental Biology who studies how environmental stresses alter the circadian system of plants, says his own mentors greatly influenced his career. These included his graduate mentor, who guided him through his first steps in research, as well as his postdoctoral advisor, who introduced him to his current field of study.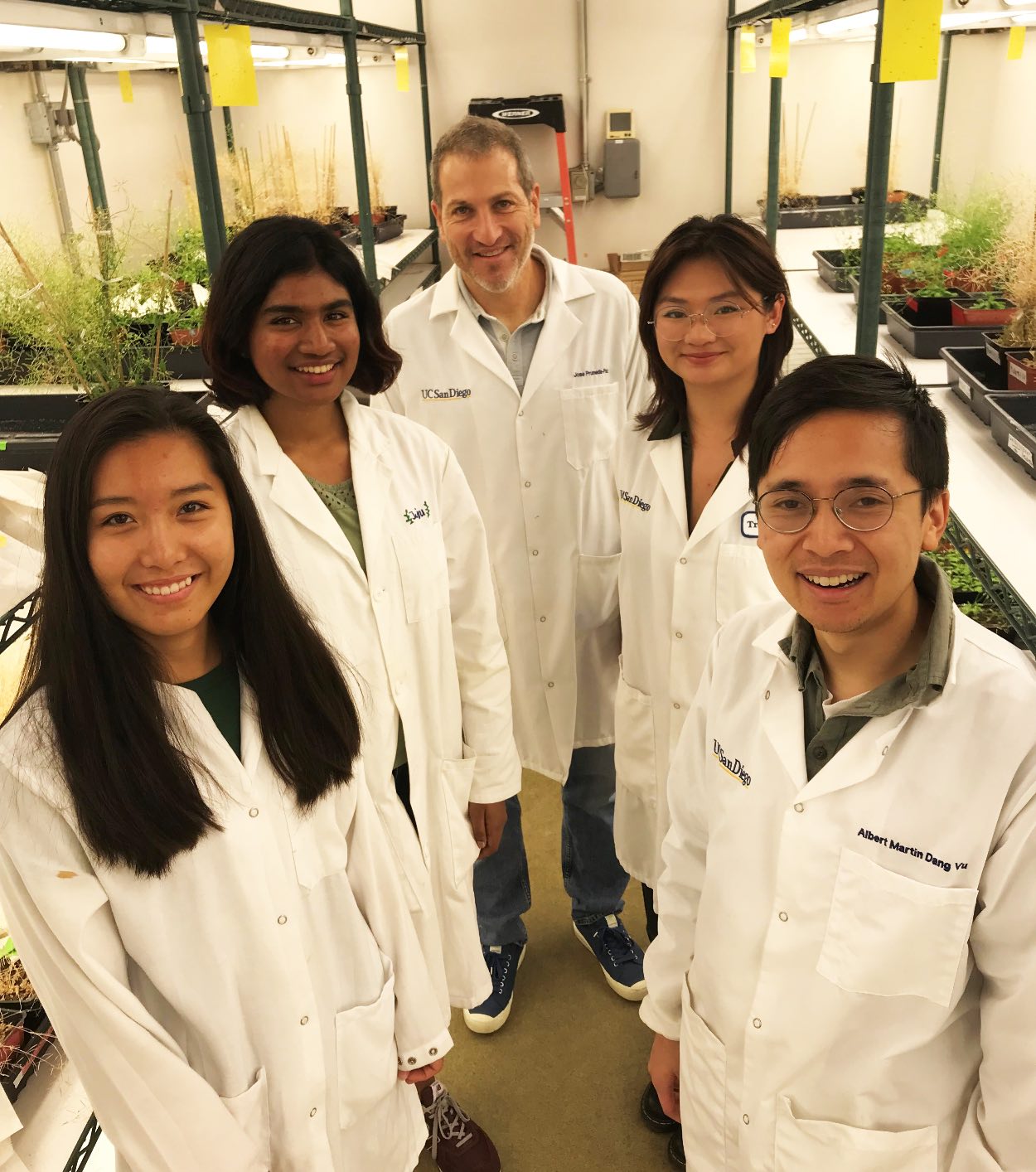 During the symposium, two students in Pruneda-Paz's laboratory gave moving tributes on why he deserved the award.
"I hope that Professor Pruneda-Paz knows that he earns the Outstanding Mentor Award every day that he shows up and builds this encouraging environment for us. We are genuinely so grateful for him," said Tejasvi Patil. "I consider myself incredibly fortunate to have such a mentor who embraces acceptance and exhibits boundless patience and generally wants the best in me…" said Albert Martin Dang Vu. "His guidance and mentorship have been transformative and I am profoundly grateful for the invaluable impact he has had in my life."
Pruneda-Paz's research seeks to understand how stress signals that are perceived by only a small part of the plant drive changes in the circadian system that extend to the entire plant and result in reduced plant fitness. Such investigations will help uncover fundamental aspects of plant biology and provide critical knowledge to devise strategies for improving the performance and production of field crops.
"I really enjoy interacting with students in the laboratory setting, from planning experiments to discussing and interpreting results, and being challenged by their curiosity and their unique training needs," said Pruneda-Paz. "It is fulfilling for me to see students grow as young scientists and to help them prepare to take the next step in their careers. Being part of this process is also educational for me as I also learn from students and grow as a mentor with them."
Pruneda-Paz received his PhD in biochemistry from the National University of Cordoba in Argentina and completed postdoctoral research at The Scripps Research Institute and UC San Diego. He joined the UC San Diego School of Biological Sciences in 2011.
The full list of 2023 Outstanding Mentor Award winners can be found at the Outstanding Mentor Award page.