Associate Professor David Holway named Faculty Director of UCSD's Natural Reserve System
January 4, 2010
Media Contact:Kim McDonald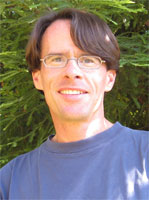 Associate Professor David Holway has been named Faculty Director of UCSD's Natural Reserve System, which supports university-level teaching, research and public service by protecting key areas of the natural environment. The UCSD reserve system sites include the Dawson Los Monos Canyon Reserve, the Elliott Chaparral Reserve, the Kendall-Frost Mission Bay Marsh Reserve and the Scripps Coastal Reserve.
Holway succeeds Paul Dayton of the Scripps Institution of Oceanography, who served as the Faculty Director of the Natural Reserve System for the past three years.
Holway joined the Division's Ecology, Behavior, and Evolution section in 2001. His research focuses on the phenomenon of social insect invasions and their associated environmental impacts. His interdisciplinary research integrates ecology, behavior and genetics into experimental designs that yield a quantitative understanding of these invasions. More information on the Natural Reserve System.