Therese Markow Wins George W. Beadle Award from Genetics Society of America
January 18, 2012
By Kim McDonald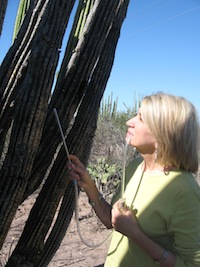 Professor Therese Markow has received the George W. Beadle Award from the Genetics Society of America "for outstanding contributions to the community of genetics researchers." The award was established by the society in 1999 and named for its past president, who received the 1958 Nobel Prize in Physiology or Medicine for his discovery of the role of genes in regulating biochemical events within cells.
Markow is a professor of cell and developmental biology, studying speciation, the evolution of mating systems and adaptation to novel environments. Her research on cactus-breeding Drosophila in the Sonoran Desert has broad implications for the field of population genetics, particularly the genetic and ecological factors driving reproductive isolation, which eventually leads to the development of distinct species.
In addition to research in her own lab, Markow is director of the Drosophila Species Stock Center, a living collection of more than 1,600 strains and 250 species of Drosophila supported by the National Science Foundation. This center in the Muir Biology building is an invaluable resource for genetics researchers worldwide who use Drosophila to answer fundamental questions in evolution, ecology, developmental biology, physiology, neurobiology, comparative genomics and genomics.