National Academy of Sciences Awards Major Prize to UCSD Chemistry and Biology Professor
January 18, 2006
By: Kim McDonald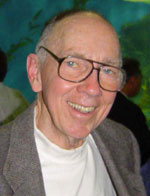 Russell F. Doolittle, a research professor at the University of California, San Diego, has been selected by the National Academy of Sciences to receive the academy's John J. Carty Award for the Advancement of Science.
Doolittle, who holds appointments in both the Department of Chemistry and Biochemistry and the Division of Biological Sciences, will receive a medal and $25,000 prize at a ceremony April 23 during the academy's 143rd annual meeting in Washington, DC.
The award, which was established by the American Telephone Telegraph Co. in honor of John J. Carty and which has been awarded annually since 1932, recognizes individuals "for noteworthy and distinguished accomplishment in any field of science."
Doolittle was chosen, according to the academy, "for contributing seminal insights and methods for using computers as an aid to characterizing protein function, in comparing amino acid sequences, and for phylogenetic reconstructions."
Doolittle arrived on the UCSD campus in 1964 as an assistant research biologist after completing two years of postdoctoral work in Sweden and was named to a faculty position in the chemistry department in 1965. A resident of La Jolla, he received his Ph.D. from Harvard University in biochemistry and was elected to the National Academy of Sciences, the American Academy of Arts and Sciences and the American Philosophical Society.
The National Academy of Sciences is a private, nonprofit honorific society of distinguished scholars engaged in scientific and engineering research, dedicated to the furtherance of science and technology and to their use for the general welfare. Since 1863, the academy has served to "investigate, examine, experiment, and report upon any subject of science or art" whenever called upon to do so by any department of the government.