16 Biology Undergrads Win Gates Millennium Scholarships
January 24, 2014
By Kim McDonald
Sixteen biology undergraduates are among the 68 students at UC San Diego currently receiving awards from the Gates Millennium Scholars program, which annually provides "good through graduation" scholarships to 1,000 talented undergraduate and graduate students nationwide. The scholarships were established by the Bill and Melinda Gates Foundation to provide support for students from ethnically underrepresented groups who are at a significant economic disadvantage and have high academic and leadership promise and a demonstrated dedication to community service.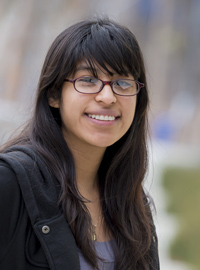 Erik Jepsen, UC San Diego
Since the program's inception in 2000, the campus has seen a steady rise in enrollment of Gates Millennium Scholars, with UC San Diego students receiving a total $7,850,625 in scholarship funds from the program. Although the average annual award to individual students was $12,227 between the 2001 to 2012 academic years, many Gates Scholars also receive other financial aid awards in addition to Gates funds.
Among the recent recipients is Dalia Valladares, a freshman biology student who grew up in south central Los Angeles and hopes to attend medical school when she graduates.
"The Gates Millennium Scholarship has inspired me to grow more as a student," she said. "I want to continue to shape my own success to then come back to my community and help young students learn to shape their own aspirations and dreams."
Other biology students currently receiving Gates Millennium Scholarships are freshmen Miguel Anzelmetti and Jennifer Price-Smith; sophomore Pangdee Thao; junior biology majors Andre Mota, Dalena Nguyen and Selene Ortiz; and senior biology majors Estephania Cortez, Namphuong Doanvo, Edith Gastelum, Stephanie Heldiz, Sandra Iraheta, Lana Le, Ereca Nguyen, Narathip Reamaroon and Omar Viramontes.
For more on Valladares and the UC San Diego Gates Millennium Scholarships, check out the UC News Center article.