Professor Zuniga Receives Grant to Study Role of Interferon in Lupus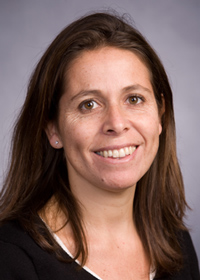 January 31, 2013
By Kim McDonald
Elina Zuniga is one of 12 researchers nationwide to be awarded a $300,000 grant from the Lupus Research Institute to pursue ground-breaking studies about lupus and other autoimmune diseases with the potential for transformative results.
Zuniga and colleagues in her laboratory will use the grant to find out how the body's production of interferons might be lessened as a way to treat lupus. Viral infections trigger the immune system to make large amounts of virus-fighting proteins known as interferons. But too much interferon may cause the immune system to attack the body in lupus.
"In chronic viral infections such as HIV, interferon production eventually declines, whereas in lupus and some other autoimmune diseases it does not," said Zuniga. "We are asking how viruses attenuate interferon production. Our research could lead to new treatment approaches to turn off interferon in lupus and other autoimmune diseases."