In Love with Research, and with Each Other
February 1, 2010
By: Roxana Popescu
Whether they share labs or library books, interests in poetry or proteins, faculty couples-people who have made a commitment to their research and to one another-face an entirely unique set of challenges and privileges in academia.
It is hard to determine how many married couples or life partners there are on UCSD's faculty. Some departments have a concentration (biology and economics, for example, have at least four couples each), while in other cases couples are split among disciplines or between teaching, research and administration.
Things can get even more interesting when both people happen to be in the same field.
Karen Pierce, who leads the UCSD Autism Center of Excellence with her husband, Eric Courchesne, calls their lifestyle "correlated craziness." She picks up the kids from school if he has to give a lecture, or vice versa. They schedule grant proposal applications and social outings with friends, all while raising two children-and trying to find a cure for autism.
Their life together can get hectic, but it is also very rewarding, Pierce and Courchesne say.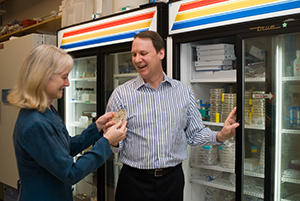 Working at the same institution as your spouse or life partner has it perks. Forgot a file at home? Have your spouse email it. Want help folding laundry or filing patents? You know who to ask. Hard day? Grab lunch with the love of your life. And for the best way to word that grant application, merely lean over and nudge the person lying next to you in bed.
For Susan and James Golden, whose careers as molecular biologists started at roughly the same time as their marriage, one of the small advantages is coordinating their schedules so if one has to teach a class that ends late in the day, the other does, too. They're doing that this semester. The key advantage of the arrangement is "the carpool lane!" Susan Golden jokes.
Another positive dimension of sharing not just a life, but a career, is identifying and developing complementary strengths, the couples interviewed for this story said. One person might be more concrete, the other more theoretical; one can be great at addressing department politics, the other at tracking down elusive funding sources. Courchesne credits Pierce's project conceptualization skills and her "knowledge of the clinical aspects of autism, including treatment, behavioral characteristics and brain imaging." Those complement his knowledge of genetics and underlying molecular and cellular biology, he says.
But the best part of all? Having a likeminded individual to strategize with and learn from, who knows exactly what you're going through and has a common goal.
"Everything we do is really to support and facilitate the science," says Pierce. "Last night Eric did a brain scan and he didn't get home until a quarter to 12. We really have to be really supportive. If we both weren't so committed to the mission, it might not be that easy."
Commitment to the mission and commitment to one another are symbiotic phenomena, because if being close allows them to do better research, doing research together brings them closer, they say.
"There's a great sense of partnership," Pierce says. That came in especially handy when they started to raise their two young children. "Because the two of us work together and we have common goals, it was really possible for us to go through those first years of sleeplessness supporting each other in ways that wouldn't have been so easy if we had very different jobs and very different job responsibilities."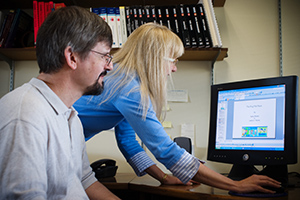 Not All a Breeze
Career timelines, issues of respect and recognition, how in demand a duo's field of study is, struggles with work-life balance, and how amenable an institution is to hiring couples jointly all present potential complications.
Not to mention that sometimes, right when you're about to fall asleep, your spouse starts asking about the best way for wording that grant application.
One of the main logistical conundrums facing married couples or life partners in academia is what's known as the Two Body Problem. A spinoff of the physics principles that study how two particles that interact only with each other move with respect to one another, this label alludes to the difficulties couples face when trying to get hired at the same institution.
If finding a job together isn't enough of a challenge, couples must also have to aim to be content on the same campus, and sometimes in the same department-for the same amount of time.
"We have to stay together or leave together," says Garey Ramey, who is in the economics department along with his wife, Valerie. They're not planning on going anywhere, he adds.
Another challenge is developing individual identities or risk being seen as a unit.
Since Susan and James Golden have had adjacent offices for 18 years ("but who's counting?" she quips), they often encounter students roaming hallways in search of Dr. Golden.
"You found one, which one are you looking for?" the questioned party will reply.
But save the occasional confused undergraduate, the Goldens say they maintain professional identities in their departments and in their broader disciplines. To that end, James Golden says, he and his wife take a "yours, mine and ours" approach to their careers. Each scholar does his or her own research, but when they came to UCSD in 2008, they also founded a lab together that is seeking innovative ways to turn algae into biofuels.
"For the first 25 years of our scientific careers we didn't work on the same thing," Susan Golden says. "We got our own grants. We succeeded individually. That means the greater scientific community knew us as individuals. I know a lot of couples who have trouble being seen as individuals when they are coauthors and co-PIs. It is difficult to evaluate who's doing what."
That is something each of the couples interviewed for this story said is critical: have separate research interests or specialties and make a name for yourself independently, even if there is an eventual or occasional overlap.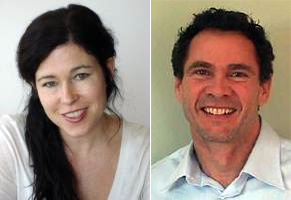 Seven Days Out of Seven
For the first year of their marriage, Pierce and Courchesne placed a ban on talking about work at home. It didn't last long.
"The more successful we've become, the more we talk about it at dinner. Work becomes a bigger and bigger part of our lives. Now, it's five days out of seven-maybe seven days out of seven," Courchesne says.
The Goldens, who moved to San Diego from Texas, made sure to find a home close to the beach, where walks and surfing lessons help keep their minds off work.
"At home, more often than not, we're trying to think about how to not think about school," James Golden jokes.
And conversations around the Ramey dinner table gravitate around economics.
"It never stops," Garey Ramey says. "The intellectual end of it is the best. It's constant. It never ends."
"You can't leave your work at the office when you're married to your colleague," Valerie Ramey continues.
Bringing work home turned out to be a great move for the economists, since by watching their two children and noticing how other parents were raising their own kids, the Rameys were compelled to ask some of the questions they addressed in "Rugrat Race," a widely cited study they co-authored that examines the pressures parents place upon young children because of college admission aspirations.
But what about the downside of working at the same institution as your spouse or partner?
Are all faculty couples supportive of one another all the time? Don't they ever compete? Is the joy of witnessing a husband or wife's professional victory tempered by the sadness of not keeping up? And does it ever get tiring to be with someone 24/7?
If such problems exist for others, those interviewed here say they have not encountered them. If anything, witnessing each other succeed has spurred them on, and it seems that some couples-and scholars-truly never tire of the object of their affection.