UCSD Biological Studies Professor Julian Schroeder Awarded 2010 Cozzarelli Prize
MARCH 2, 2011
By: Kim McDonald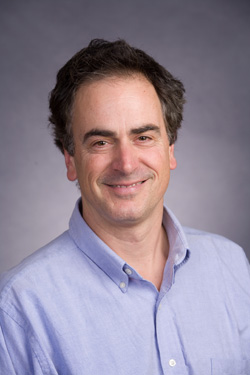 A publication co-authored by Professor Julian Schroeder and PEW Latin America Fellow, postdoctoral associate David Mendoza Cozatl on the identification of genes that control toxic metal accumulation in plants that was published last November in the Proceedings of the National Academy of Sciences has won a 2010 Cozzarelli Prize. The other main authors of the paper were Enrico Martinoia of the University of Zurich and Youngsook Lee of PosTech University in Korea.
Papers selected for the Cozzarelli Prize were chosen from more than 3,700 research articles published by PNAS in 2010 and represent the six broadly defined classes under which the National Academy of Sciences is organized.
The annual award acknowledges recently published papers that reflect scientific excellence and originality. The award was established in 2005 and named the Cozzarelli Prize in 2007 to honor late PNAS Editor-in-Chief Nicholas R. Cozzarelli. The 2010 awards will be presented at the PNAS Editorial Board Meeting, and awardees will be recognized at the awards ceremony, during the National Academy of Sciences Annual Meeting on May 1 in National Harbor, Maryland.
Related Links
Announcement of the 2010 Cozzarelli Prize winners
News Release on this paper and a related discovery published by Schroeder and his colleagues