Eva-Maria Schoetz Collins Named 2013 Sloan Research Fellow
March 5, 2013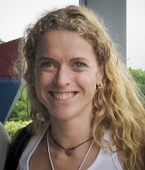 Eva-Maria Schoetz Collins, assistant professor of physics and biology, is one of four faculty members at UC San Diego who have been named 2013 Sloan Research Fellows by the Alfred P. Sloan Foundation. Awarded annually since 1955, the fellowships are given to early-career scientists and scholars whose achievements and potential identify them as rising stars, the next generation of scientific leaders.
Collins investigates the role physical principles play in living systems, studying organisms with incredible regenerative powers, such as planaria and hydras, which can reconstruct two entirely new, complete animals when cut in half. By combining stem-cell biology with the mechanics of tissues and statistical physics, she has developed a unique experimental system characteristic of the emerging cross-disciplinary approach called quantitative biology. Collins received a bachelor's degree in mathematics and physics from University of Konstanz, Germany and a Ph.D. in physics from Technical University, Dresden, Germany.
More on the other UC San Diego fellows at the News Center.