Paul G. Allen Family Foundation Awards $1.6 Million to Young Investigator Suckjoon Jun
March 7, 2013
By Kim McDonald and Judy Piercey
One of the newest faculty members at UC San Diego– Suckjoon Jun, an assistant professor of physics and molecular biology–has won a $1.6 million award from the Paul G. Allen Family Foundation. This is the first award given to a UC San Diego recipient from the foundation, which was established by the co-founder of Microsoft to support high-risk, high-reward ideas in science. Jun's effort is one of five awards announced by the foundation last week to projects "that aim to unlock key questions in the areas of cellular decision making and modeling dynamic biological systems."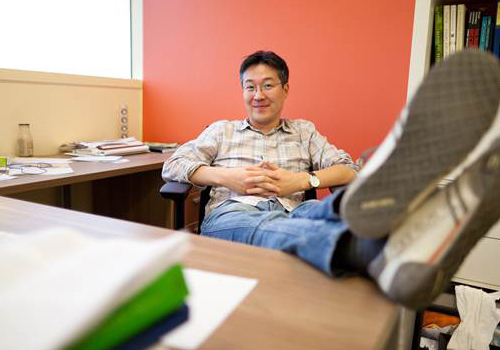 Photo by Calvin Feng
"I am hoping to develop tools and methods that will ultimately help us answer some of the most fundamental questions in biology," said Jun. "I am deeply grateful to the Paul G. Allen Family Foundation for believing in young scientists pursuing big, but risky, questions."
Added Suresh Subramani, executive vice chancellor for Academic Affairs at UC San Diego, "I am continuously inspired by the curiosity, energy and vigor of our young UC San Diego faculty members, and by the dedication and commitment of the philanthropic partners who positively impact the trajectory of their careers and research."
The Allen Distinguished Investigators award exemplifies the success being seen through the UC San Diego Young Investigator Program. The program was developed by the Office of Corporate and Foundation Relations (CFR), in collaboration with the Division of Academic Affairs and other campus partners, to connect research faculty at the start of their academic careers with the community and sources of private funding.
CFR works with young investigators–new faculty in their late 20s to early 30s who have come to UC San Diego to teach and conduct research–to plan ahead and lay out a 'funding road map' for their specific interests and research goals. Part of this process includes broadening their outlook on funding and collaborative opportunities to include private support from corporations and foundations, which is becoming increasingly critical in light of state and federal budget cuts. Through this program, young faculty members are introduced to potential philanthropy partners.
Jun is part of a new generation of scientists on campus fluent in both physics and biology and engaged in developing mathematical models that can quantify and predict the complex behavior of living organisms. This campus-wide interdisciplinary effort, called "quantitative biology"–or "Q-bio"–is one of a number of new strategic, forward-thinking research initiatives at UC San Diego designed to make the university a world leader in key areas of future importance to our society. According to a recent National Academy of Sciences report, advances in quantitative biology are a necessary ingredient of ensuring our nation continues to make future progress in medicine, genetics and the life sciences.
Jun, whose research project involves "cell-size control and its evolution at the single-cell level," developed a tiny device a few years ago to isolate and physically manipulate individual genetic materials.
"It turned out that we can use the same device, now known as the 'mother machine,' also to follow the life history of thousands of individual bacterial cells for hundreds of generations," he said. "We looked at the growth patterns of the cells very, very carefully, and realized that there is something really special about the way the cells control their size."
Jun and colleagues in his laboratory hope to determine mathematically how the inner machinery of cells evolved to the point they could sense their size and, as they grow, when to divide. "It sounds pretty simple, but we have no clue," he said. Although such a study could lead to a better understanding of the runaway cell division that leads to cancer, an early-stage, high-risk study without a senior faculty member involved often won't receive funding from traditional funding sources. But Jun said two faculty members on the campus–Kun Zhang, an associate professor of bioengineering, and Olga Dudko, an associate professor of physics–believed his high-risk project was promising enough they wrote letters in support of his project, "which I'm absolutely sure helped."