Biology Graduate Student Honored for EDI Leadership
March 13, 2018
By Mario C. Aguilera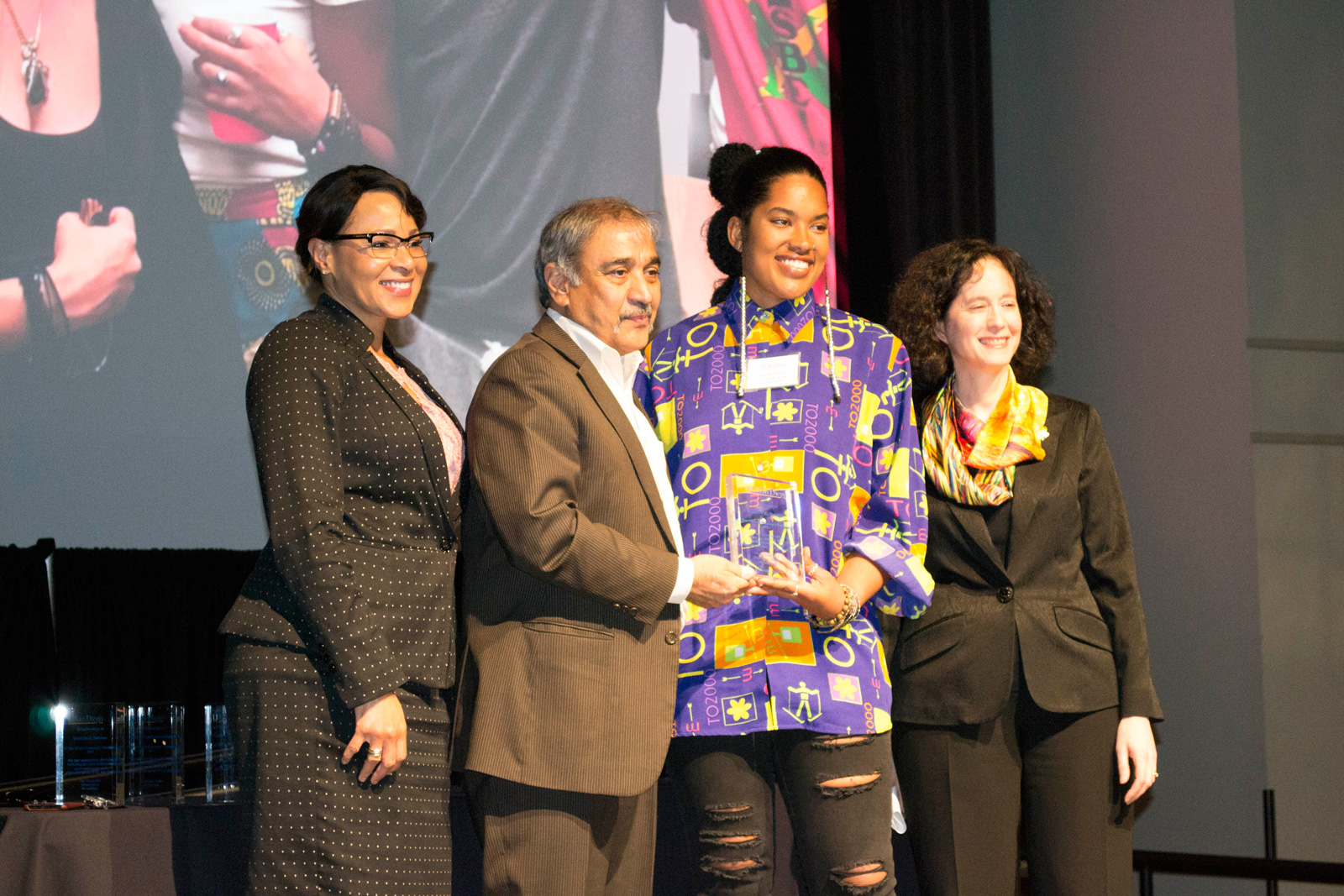 UC San Diego Division of Biological Sciences graduate student Chandler Puritty was honored on March 1 at a ceremony recognizing university leaders who are making a difference in improving equity, diversity and inclusion (EDI).
At the 23rd annual Equal Opportunity/Affirmative Action and Diversity Award Ceremony, UC San Diego Executive Vice Chancellor Elizabeth Simmons recognized Puritty for her many efforts promoting EDI programs and initiatives on campus and in the greater community.
In nominating Puritty for the award, Elsa Cleland, a Biological Sciences associate professor and Puritty's advisor, called out the many ways Puritty is a leader in EDI initiatives, particularly in the fields of science, technology, engineering and mathematics.
"(Puritty) has made it a personal priority to mentor undergraduate women of color in the sciences, aid in recruiting a diverse applicant pool to our graduate programs, and foster an equitable and inclusive campus culture," said Cleland, who highlighted a few examples of Puritty's EDI efforts in the two years since she arrived on campus: graduate member at large for the UC San Diego Equity, Diversity, and Inclusion Advisory Council; co-chair of the Diversity Advisory Council for the Graduate Student Association; co-president of the UC San Diego Black Graduate Student Association; diversity outreach coordinator for the UC San Diego Graduate Orientation Planning Committee; and graduate student representative to the Division of Biological Sciences Diversity Committee.
Cleland also recognized Puritty's contributions to mentorship as well as community outreach, including volunteering at Burbank Elementary School in San Diego, where 96 percent of the students are eligible for free lunch, and where science teachers have been excited and energized by the participation of UC San Diego graduate students in helping them implement the Next Generation Science Standards.
"It was truly an honor to receive this award," said Puritty. "The best part of receiving this award was that it brought to my attention other EDI efforts on campus. I do this work because I love it and I know how important it is to our future. It's only the cherry on top to be recognized for my efforts."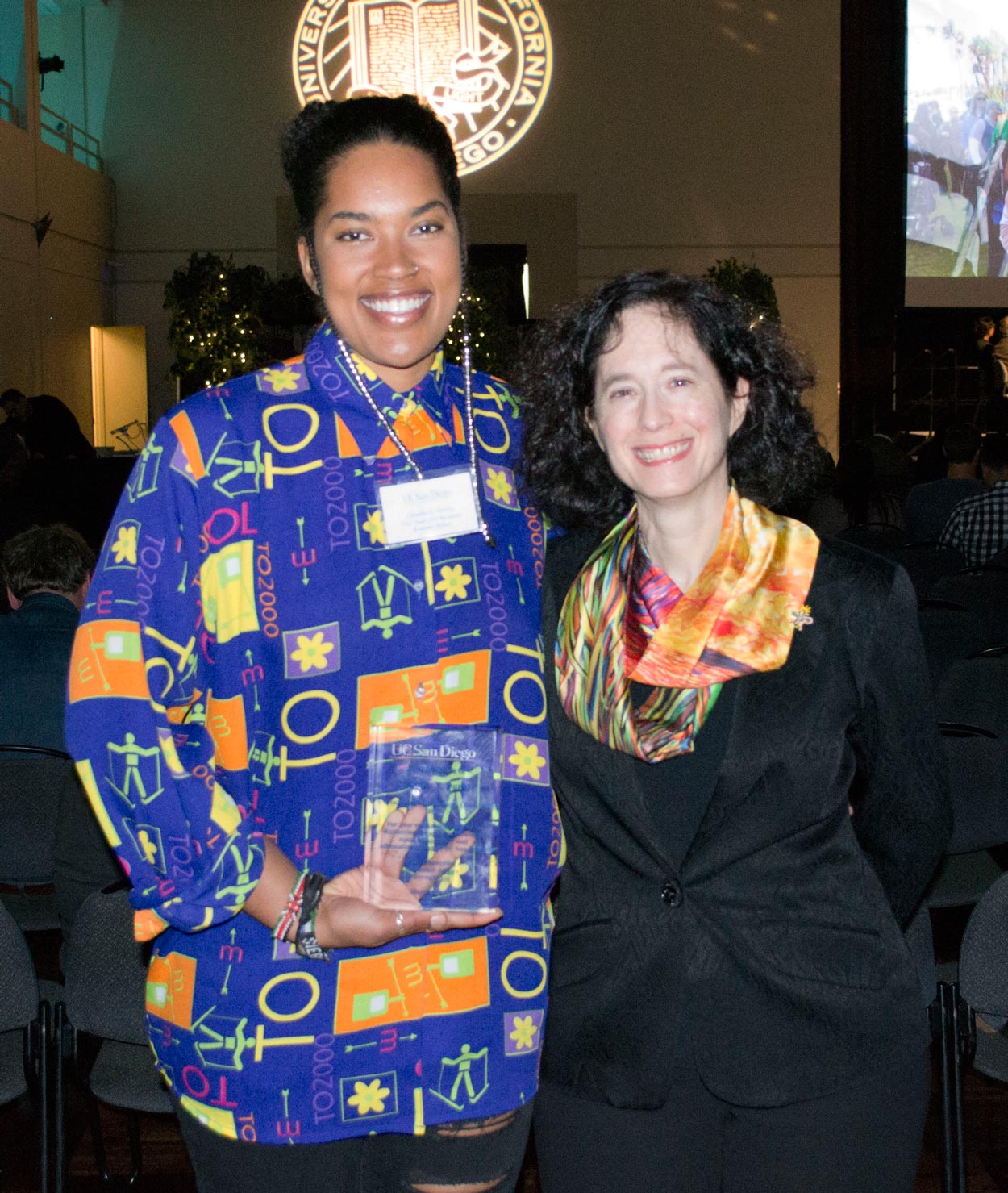 During the ceremony, Simmons also highlighted Puritty's leadership in publishing a September policy forum article in the journal Science, "Without inclusion, diversity initiatives may not be enough," on the critical importance of EDI.
"Our aim with this article is to help bridge the gap between well-meaning people invested in increasing diversity in science and those that they hope to recruit," said Puritty. As noted in the article, "If we do not focus on inclusion and changing institutional culture to address the effects of prejudice, we can increase the number of diverse scientists without creating an equitable scientific community in which all scientists feel welcomed and valued."
Puritty's doctoral research explores how drought influences the invasion of exotic Mediterranean grasses into California coastal sage scrub. After graduate school she plans to work towards founding a non-profit organization that focuses on education and policy for third-world countries facing the effects of climate change.
See the full list of those honored at the UC San Diego ceremony: http://ucsdnews.ucsd.edu/feature/celebrating-our-differences.