Dean Steve Kay Among UC San Diego Faculty Excellence Awards Honorees
March 31, 2010
Media Contact: Laura Margoni (858) 822-2485
For University of California, San Diego theatre and dance Professor Naomi Iizuka the play's the thing that garnered her the inaugural Chancellor's Associates Faculty Excellence Award for Excellence in Visual and Performing Arts. Iizuka, who is a renowned playwright and UC San Diego alumna, is the first person to receive the award in this category, which was created to recognize the outstanding level of work by faculty in this area.
"This new award highlights the remarkable talents, achievements and creativity of the members of UC San Diego's music, theatre and dance, literature and visual arts departments," said Wayne Dernetz, 2010 Faculty Excellence Awards Selection Committee chair. "Their contributions help us appreciate the beauty, meaning and joy of life. Along with the humanities and sciences, the arts define the human condition."
The new award, along with five other prestigious awards for excellence in teaching, research and community service, will be presented April 1 from 5:30-7:30 p.m. at Atkinson Hall, located at the California Institute for Telecommunications and Information Technology (Calit2) on the UC San Diego campus. The annual celebration, now in its 36th year, honors faculty as a whole while highlighting the important contributions of the university's most exemplary teachers and researchers via brief video presentations. Chancellor's Associates, a program for donors who give an annual leadership gift of $1,500 or more to the university, will recognize the outstanding accomplishments of university faculty members with a citation and $2,500 award.
The recipients of the 2010 Chancellor's Associates Faculty Excellence Awards include: Samuel Rickless, Ph.D., professor of philosophy, for excellence in undergraduate teaching; Lisa Lowe, Ph.D., professor of comparative literature, for excellence in graduate teaching; Keith Rayner, Ph.D., professor of psychology, for excellence in research in humanities and social sciences; Steve Kay, Ph.D., dean of the Division of Biological Sciences, for excellence in research in science and engineering; Barbara Brody, M.P.H., director of the division of community ophthalmology for excellence in community service; and Naomi Iizuka, M.F.A., professor of theatre and dance, for excellence in performing and visual arts.
"This year's honorees exemplify our tradition of excellence and innovation," said UC San Diego Chancellor Marye Anne Fox. "They are exceptional teachers, researchers, community leaders and campus citizens. I applaud their achievements and dedication to the university, and I congratulate them on this much-deserved recognition."
Award candidates are nominated by their academic peers, with final selection by a committee comprising Chancellor's Associates donors. Criteria for selection are based on faculty member achievements, reputation and impact on students and the academic community. Since 1974, UC San Diego has recognized more than 100 extraordinary faculty members with Chancellor's Associates
Excellence in Research in Science and Engineering
Steve Kay, Dean of the Division of Biological Sciences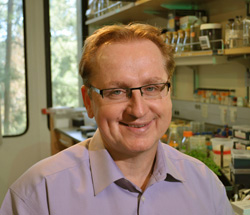 Kay is being honored for his extraordinary research contributions to the new fields of genomics and systems biology. A world-recognized leader in circadian biology, Kay was the first to identify plant clock genes and establish their regulatory loops. He has published numerous, high profile articles in the leading scientific journals, signifying major discoveries in the understanding of the biological clock. His research is predicted to have a profound impact on human health as well as agricultural productivity. Last year, Kay was elected as a member of the National Academy of Sciences, one of the highest honors for a scientist in the U.S.
"Professor Kay's work in the field of circadian rhythms has been seminal, and he is known as a scholar of the highest distinction," said Richard Firtel, associate dean of the Division of Biological Sciences. "He is at the very top of his field and embodies the spirit of this award. I cannot imagine anyone more deserving at this time."
About UC San Diego Chancellor's Associates
The UC San Diego Chancellor's Associates program provides an opportunity for the university to connect with friends and supporters within the community. Through the years, the group has grown to include nearly 500 alumni, parents, faculty, staff and friends from across the country. Chancellor's Associates donors are recognized for their generosity in providing annual leadership gifts of $1,500 or more to be used at the Chancellor's discretion.
Related Links