Enfu Hui Named 2018 Searle Scholar
April 6, 2018
By Mario Aguilera and Searle Scholars Program announcement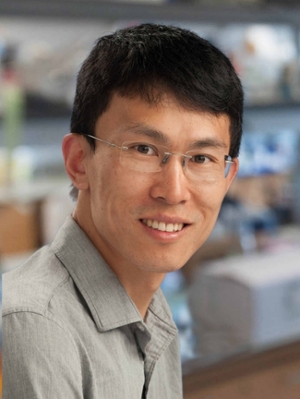 Biological Sciences Assistant Professor Enfu Hui has been named one of 15 Searle Scholars for 2018. The Searle Scholars Program supports high risk, high reward research across a broad range of scientific disciplines. The program awards grants to selected universities and research centers to support the independent research of exceptional young faculty in the biomedical sciences and chemistry who have recently been appointed as assistant professors on a tenure-track appointment. The new Searle Scholars are pursuing fundamental, ground-breaking research and will each receive an award of $300,000 in flexible funding support over the next three years.
Hui, a member of the Section of Cell and Developmental Biology, studies T cell signaling in relation to key cancer immunotherapy targets. His team works to dissect the inner processes of so-called "immune checkpoints" using a combination of cell-free membrane reconstitution, time-resolved live cell microscopy and cutting-edge cell biology approaches.
His research as a Searle Scholar, "Mechanistic Dissection of Cancer Immunotherapy Targets," was described as "an exciting blend of mechanistic and highly creative approaches to the medically relevant and pressing issues of T cell based cancer therapy… the work has a desirable blend of feasible yet risky approaches to investigate the interaction of T cells with cancer cells, and as such has many appealing facets for an award of this nature."
The Searle Scholars Program's scientific director appoints an advisory board of eminent scientists who choose the scholars based on rigorous standards aimed at finding the most creative talent interested in pursuing an academic research career. This year, 198 applications were considered from nominations by 136 universities and research institutions.

"Some of the scholars are conducting research of a purely basic kind, such as probing the structure and dynamics of protein assemblies, examining the mechanisms of meiosis and gene regulation and working out what circuits in the brain underlie complex behaviors," said Doug Fambrough, scientific director for the Searle Scholars Program. "Others have developed research projects likely to have immediate application to human health, including cancer, dengue fever, tuberculosis and infections caused by microsporidia and parasitic worms. A characteristic of all the new scholars is their willingness to take on ambitious and often risky research projects that, if successful, will have enormous impact in their scientific fields. This has always been a defining attribute of Searle Scholars and it is remarkable how often those projects succeed."​

The Searle Scholars Program is funded through grants from the family trusts to The Chicago Community Trust and administered by the Kinship Foundation, the private operating foundation that manages the institutional philanthropy of the Searle Family.
Since 1981, 602 scientists have been named Searle Scholars. Including this year, the program has awarded more than $134 million. Seventy-five Searle Scholars have been inducted into the National Academy of Sciences. Seventeen Scholars have been recognized with a MacArthur Fellowship, known as the "genius grant," and a Searle Scholar has been awarded the Nobel Prize for Chemistry.