UC San Diego Biologist Receives 2010 World Ecology Award
April 14, 2010
Media Contact: Kim McDonald (858) 534-7572
Kylie Shafferkoetter (314) 516-5851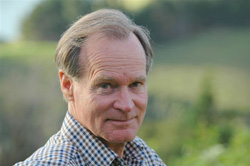 David Western, an adjunct professor of biology at UC San Diego and the founding executive director of African Conservation Centre in Kenya, will receive the 2010 World Ecology Award.
The award is given annually by the Whitney R. Harris World Ecology Center at the University of Missouri-St. Louis "to an eminent individual who has raised public awareness about global ecology and made significant contributions to environmental protection and biodiversity conservation."
Past recipients of the prestigious award include Jane Goodall, Harrison Ford, Richard Leakey, Teresa Heinz, Ted Turner, Peter Raven, Jacques Cousteau and John Denver.
Western will formally receive his award, an engraved medal, during a gala dinner at the Missouri Botanical Garden in St. Louis on May 7.
Raised in Tanzania and now a Kenyan citizen, Western spent more than 43 years engaged in research in Kenya studying the interactions between livestock, wildlife and humans, with the aim of developing conservation strategies applicable at an ecosystem scale.
As the former director of the Kenya Wildlife Service and conservation director for the Wildlife Conservation Society, Western has been active in many areas of conservation, including community-based conservation, international programs, conservation planning, ecotourism, training, directing governmental and non-governmental organizations, and public education.
Western's publications include "Conservation for the Twenty-first Century," "Natural Connections: Perspectives in Community-based Conservation" and "In the Dust of Kilimanjaro."
He earned his bachelor's degree from Leicester University in England and his doctorate from the University of Nairobi in Kenya. He is an adjunct professor of biology at the University of Minnesota in Minneapolis as well as at UC San Diego.
View a list of past recipients of the World Ecology Award.
About UC San Diego
Founded in 1960, the University of California, San Diego is ranked the best value public university in California by Kiplinger's Personal Finance magazine and the 7th best public university in the nation by U.S. News and World Report. Named the "hottest" institution to study science by Newsweek, UC San Diego is one of the nation's most accomplished research universities, widely acknowledged for its local impact, national influence and global reach. Renowned for its collaborative, diverse and cross-disciplinary ethos that transcends traditional boundaries in science, arts and the humanities, the university attracts stellar faculty, students and staff. For more information, please visit the UC San Diego Website.
About the Whitney R. Harris World Ecology Center
The Whitney R. Harris World Ecology Center has become, through its partnerships with the Missouri Botanical Garden and the Saint Louis Zoo, the premier institution for graduate studies in tropical ecology and biodiversity conservation. With graduate students from more than 20 countries working throughout the tropics, the center supports the largest group of tropical biologists in the world.