2008 Life Sciences Career Expo, hosted by BSSA
APRIL 28, 2008
Media Contact: Pat Walsh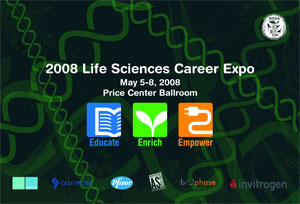 BSSA held its 2008 Life Sciences Career Expo at the UC San Diego Price Center from May 5 through May 8. This signature event of the Biological Sciences Student Association, in collaboration with the Division of Biological Sciences, brought life science leaders and companies together with the campus's nearly 7,000 life sciences majors to talk about career options and employment opportunities.
BSSA designed and organized this key event to accomplish three important goals:
EDUCATE biology majors about the tremendous variety of career options that are available to them and to provide information on how to explore these options;
ENRICH students by providing them with access to resources that develop relevant, industry-specific up-to-date skill sets that are essential to succeeding in today's competitive markets; and
EMPOWER students by helping them network and develop lasting contact with leading industry professionals to translate their training and education into career building, trail-blazing achievements
Panels and presentations on key career options for science majors were held during the late afternoon and evenings on May 5, 6, and 7. Highlights included a pharmaceuticals biotechnology industry overview by Amylin executive Julia Brown and a plant biotechnology overview by biologist Maarten Chrispeels of the San Diego Consortium for Molecular Agriculture.
In addition, representatives of a wide range of life sciences related fields discussed career options in biotechnology, the hot new field of green biotechnology, intellectual property rights and life science law, animal behavior studies and veterinary medicine, public health, alternative medicine, and more. Students were able to ask questions and network with these professionals, who talked about their own career paths, what their jobs are like, trends in the field, employment prospects, and how to get your foot in the door.
The Expo concluded with a Job / Internship Fair at the Price Center on Thursday, May 8. Approximately 30 companies were on hand to talk with life sciences majors about employment opportunities, including Job Fair sponsors Amylin Pharmaceuticals, BioPhase, Biogen, Gen-Probe, Invitrogen, Sequenom, Genoptix, Pfizer and UCSD Extension.
Says David Lee, BSSA External Relations chair, who heads up the Career Expo, "We have worked hard and long for the past year to put this program together to expose students to the vast number of opportunities available to them as biology majors here at UCSD. We want students to know it is okay to take a nontraditional career path."
Adds Amrit Sareen, the Expo marketing chair, "We worked so hard to put this together because we believe this expo will help our fellow students create and cross over the bridge between the University and the corporate environment."
Gabriele Wienhausen, associate dean for education in Biological Sciences, notes, "The Career Expo will expand our biology students' way-of-thinking about career options by providing our majors with hands-on opportunities to learn about diverse career paths that are as varied as translational biology and drug design, regulatory development and marketing, industrial microbiology and environmental law."
The career panels and job fair were free and open to all campus life sciences majors.