Nick Spitzer Elected into the National Academy of Sciences
May 1, 2013
By Kim McDonald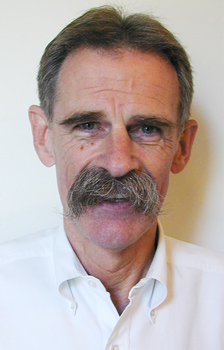 Nicholas C. Spitzer, Distinguished Professor of Biology, is one of three faculty members at UC San Diego elected this year to the National Academy of Sciences, one of the highest honors bestowed on U.S. scientists and engineers. The other two faculty members are Peter J. Novick, professor of cellular and molecular medicine, and Nancy Knowlton, adjunct professor of marine biology at Scripps Institution of Oceanography.
They join 95 current members of the UC San Diego faculty who previously had been named to membership in the academy, which was established by Congress in 1863 to serve as an official adviser to the federal government on matters of science and technology.
Major research universities use the number of academy members on their faculty as a benchmark by which to compare the strength of their scientific research and education programs among universities across the nation in different disciplines.
"We are proud that these three distinguished scientists are joining the ranks of other UC San Diego faculty members elected to the National Academy of Sciences," said UC San Diego Chancellor Pradeep K. Khosla. "These individuals are the world's recognized leaders in their respective fields and their presence on our campus is confirmation of the quality of our faculty and the excellence of our research university."
Spitzer, vice chair of the Section of Neurobiology in the Division and co-director of UC San Diego's Kavli Institute for Brain and Mind, is a renowned expert in understanding how the brain's circuitry develops and changes into adulthood. His most recent research efforts have been aimed at detailing the role electrical activity plays in the assembly of the nervous system by analyzing the effects of calcium transients on the differentiation of neurons and determining the molecular mechanisms by which they exert these effects.
He received his Ph.D. from Harvard University and was a postdoctoral fellow at Harvard and University College, London. He joined the UC San Diego faculty in 1972 and has been the recipient of a Sloan Fellowship, a Javits Neuroscience Investigator Award and a Guggenheim Fellowship. He is a fellow of the American Association for the Advancement of Science and a member of the American Academy of Arts and Sciences.
More information on the three professors can be found at UCSD News.