Roberto Malinow Elected to National Academy of Sciences
May 2, 2012
By Kim McDonald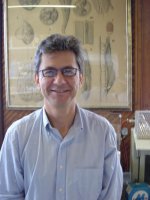 The National Academy of Sciences today elected Biology Professor Roberto Malinow and two other faculty members at the University of California, San Diego to membership in the prestigious National Academy of Sciences, one of the highest honors bestowed on U.S. scientists and engineers.
Ruth Williams, professor of mathematics, and William Young, professor of oceanography, joined Malinow to be among the 84 new members and 21 foreign associates honored by the academy "in recognition of their distinguished and continuing achievements in original research."
They join 92 current members of the UC San Diego faculty who previously had been named to membership in the academy, which was established by Congress in 1863 to serve as an official adviser to the federal government on matters of science and technology.
Malinow, a professor of neurosciences at the UC San Diego School of Medicine and a professor of biology in the Division of Biological Sciences, came to the campus in March 2008 from Cold Spring Harbor Laboratory in New York, where he held the Alle Davis and Maxine Harrison Endowed Chair of Neurosciences since 1998. He currently holds the Shiley Chair in Alzheimer's Disease Research in Honor of Dr. Leon Thal. His research focuses on synaptic transmission and plasticity, learning and memory. He received his medical degree from New York University and his Ph.D. degree from UC Berkeley. Malinow has received numerous awards including the MetLife Foundation Award for Medical Research and has been keynote speaker in several venues including the Einar Hille Memorial Lecture, KAC Elliot Lecture and Gordon Conference on Synaptic Transmission.