Two Biology Graduate Students Receive National Science Foundation Fellowships
May 8, 2018
By Mario C. Aguilera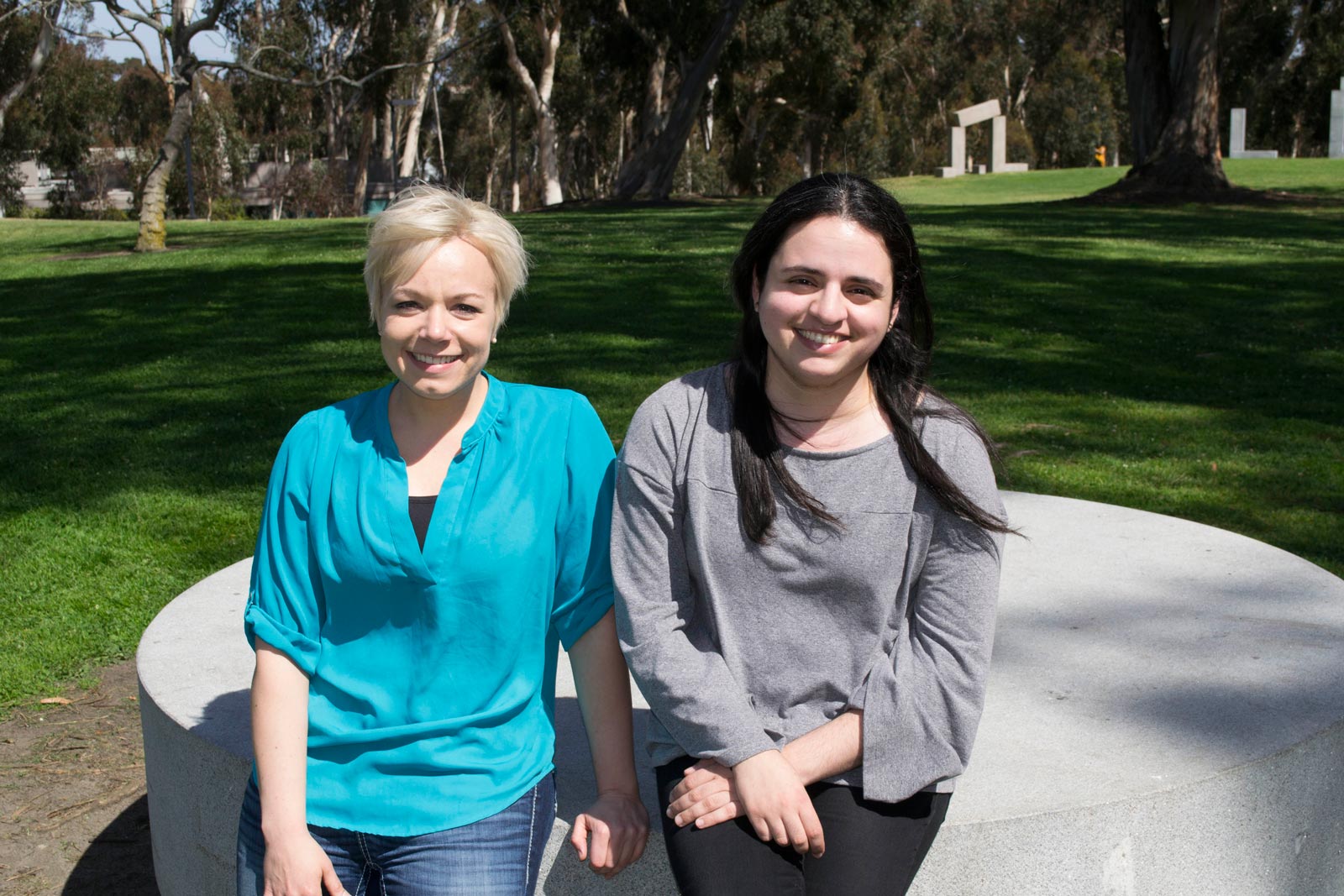 Danielle Garshott and Homa Rahnamoun, graduate students in UC San Diego's Division of Biological Sciences, have been awarded prestigious 2018 National Science Foundation (NSF) Graduate Research Fellowships.
NSF's Graduate Research Fellowship Program (GRFP) offered 2,000 fellowship awards this year following a national competition. The program recruits high-potential, early-career scientists and engineers, and supports their graduate research training in science, technology, engineering and mathematics (STEM) fields.
GRFP provides three years of financial support within a five-year fellowship period—$34,000 annual stipend and $12,000 cost-of-education allowance to the graduate institution. The funding supports graduate studies that lead to a research-based master's or doctoral degree in a STEM field.
In addition to Garshott and Rahnamoun, Biological Sciences graduate student John Gillies received an honorable mention. Four Biological Sciences alumni received GRFP awards and five alums received honorable mentions.
Garshott's graduate research in Associate Professor Eric Bennett's laboratory is targeting the protein synthesis machines known as ribosomes. Ribosomes frequently become stalled when decoding challenging mRNA sequences into their corresponding protein product. Garshott's research is focused on both identifying the machinery that rescues these stalled ribosomes as well as deciphering the molecular mechanisms used to target the mRNA and protein for destruction.
"Danielle has such great passion and dedication to scientific research," said Bennett. "I am extremely happy that her amazing work ethic and intellectual drive has been rewarded with this well-deserved distinction from the National Science Foundation."
Rahnamoun, who is advised by Assistant Professor Shannon Lauberth, is investigating the
processes controlling the reprogramming of the gene expression pathways that arise in response to chronic immune signaling, and which are pivotal for enhanced cancer cell growth. She recently uncovered a new mechanism in which p53 mutant proteins, which are found in more than 50 percent of human cancers, continuously fuel pro-inflammatory pathways by shaping an active enhancer landscape. In this study, she uncovered that mutant p53 plays a key role in regulating the production of noncoding RNA molecules that are synthesized from enhancers (eRNAs) and are required to promote the activation of tumor-promoting genes.
"Homa is remarkably passionate and exceptionally motivated in her approach to research and her receipt of the prestigious NSF Graduate Research Fellowship is a mark of distinction that is well-merited," said Lauberth. "This award provides Homa with continued support for her research, which is focused on uncovering new cellular roles for eRNAs, whose functions have remained largely elusive."
The new awardees were selected from more than 12,000 applicants and come from all 50 U.S. states, as well as the District of Columbia and U.S. territories. Honorable mention recognition went to 1,459 individuals.
"To support U.S. leadership and innovation in science and engineering, we must recognize and nurture talent from all of our nation's communities," said Jim Lewis, NSF acting assistant director for Education and Human Resources. "I am pleased that again this year, the competition has selected talented students from all economic backgrounds and all demographic categories. In addition, NSF worked successfully to accommodate students from U.S. islands devastated by Hurricanes Maria and Irma, so that they could still compete for a fellowship."
The group of 2,000 awardees is diverse, including 1,156 women, 461 individuals from underrepresented minority groups, 75 persons with disabilities, 27 veterans and 780 who have not yet enrolled in graduate school. These awardees did their undergraduate studies at more than 443 institutions, ranging from small undergraduate, minority-serving, tribal and community colleges, to large state or private universities and Ivy League institutions.
About GRFP
Launched in 1952 shortly after Congress established NSF, GRFP represents the nation's oldest continuous investment in the U.S. STEM workforce. GRFP is a critical program in NSF's overall strategy to develop a globally engaged workforce necessary to ensure the nation's leadership in advancing science and engineering research and innovation. Former NSF fellows make transformative breakthroughs in STEM, are leaders in their chosen careers, and have been honored as Nobel laureates. A hallmark of GRFP is its contribution to increasing the diversity of the STEM workforce, including geographic distribution, as well as the participation of women, underrepresented minorities, persons with disabilities and veterans.