UC San Diego Biology Professor Named Howard Hughes Medical Institute Investigator
May 5, 2001
By Susan Brown
The Howard Hughes Medical Institute today named UC San Diego biology professor Massimo Scanziani an HHMI investigator for his work on how the brain makes sense of a changing and complex flow of incoming information.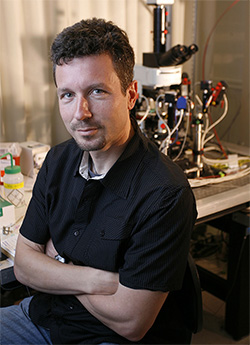 Denis Poroy/AP, ©HHMI
HHMI investigators are chosen for their creative approach to research, provided with research funds and given the opportunity to pursue the most promising leads, even if those move the project in risk-taking new directions. Scanziani was one of 56 investigators chosen this year by the institute, a nonprofit medical research organization established in 1953 by the late aviator-industrialist Howard Hughes, from among 1,070 applicants.
Scanziani studies the neural wiring of the cortex, the part of the brain that processes thought, emotion and perceptions. "The mystique of the brain is in the cortex," Scanziani explains. "I want to understand how thought and sensation are organized in time and space." The cortex is the largest part of the mammalian brain and the area most closely associated with higher brain functions such as reasoning, language and memory.
Neurons send signals with millisecond timing through neural connections that allow us to recognize an image in a painting, register an odor or retrieve a memory. Scanziani's research group studies a class of cells called inhibitory interneurons, which route traffic through brain circuits, directing neuronal impulses to make sure messages flow smoothly. "You need neurons that inhibit activity in the brain and neurons that promote activity," Scanziani says. "You need green and red signals."
Scanziani's lab has found that inhibitory interneurons, the "red lights", interact with excitatory neurons, the "green lights", in characteristic ways, even when the circuits are found in different parts of the brain, an indication that these patterns of connection form basic building blocks for organizing the cortex.
Scanziani examines these simple circuits by recording the electrical activity of individual neurons in slices of rodent brains, which can be kept alive for short periods in a dish. They have found that individual inhibitory interneurons can dramatically alter the function of complete circuits.
Scanziani's work has also shown how nerve cells sort through a barrage of incoming information. His group has found that interneurons are tuned in to particular patterns among the neural signals. Some simply respond to the arrival of a new neural impulse. Others are sensitive to more specific properties such as the tempo of a train of impulses.
As an HHMI investigator, Scanziani plans to extend his experiments to whole brains in living animals. His team is developing tools that will allow it to activate, silence or even eliminate circuits in animal models.
"We think the basic behaviors of the circuits can be repeated in the intact animal," he says.
A resident of San Diego, Scanziani received his B.S. in biochemistry from the Swiss Federal Institute of Technology and his Ph.D. in neurophysiology from the University of Zurich and Swiss Federal Institute of Technology. He has received a Dargut Kemali Prize for Basic Neuroscience, a Pfizer Foundation Prize for Basic Neuroscience Research and two Kavli Innovation Research Awards.