Graduate Student Community Awards
JUNE 1, 2009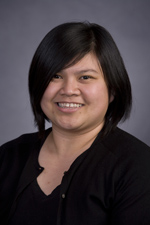 Ria Del Rosario, a faculty assistant in the Division of Biological Sciences, recently won the Outstanding Graduate Student Support Staff Award given by the Graduate Student Association.
Del Rosario was recognized with the award at the association's second annual Graduate Student Community Awards Reception May 29 at the Student Services Center. The event aimed to celebrate the work and achievements of graduate students, faculty, staff, alumni and community partners, whose support for graduate and professional students at UCSD has proven indispensable over the past year. Participants included Chancellor Marye Anne Fox and Vice Chancellor Penny Rue.
Del Rosario was described by graduate students at the event as a "saving grace." She is thorough in every job that she does; and if she can't help you, she'll find someone who can, the students said. She is "general facilitator for all things confusing and/or bureaucratic," another student said.