Dianne Pater Honored by Bouchet Graduate Society
Society recognizes scholarly achievement and promotes diversity in doctoral education
June 6, 2017
By Mario Aguilera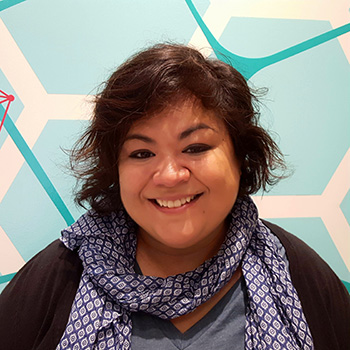 Division of Biological Sciences graduate student Dianne Pater has been inducted into the Edward Alexander Bouchet Graduate Honor Society. In all, 11 UC San Diego PhD students were recognized recently at the 14th Annual Bouchet Conference on Diversity in Graduate Education at the Yale Graduate School of Arts and Sciences.
Pater, under Distinguished Professor Julian Schroeder's mentorship, studies how plants respond to environmental stresses at a molecular and whole plant level. Her graduate research includes natural variations in the crop plant Brassica napus that can be used to identify water-use efficiency. Her work adds to tools that plant breeders and scientists can use to identify crops that perform well under drought conditions and other environmental stresses.
Dianne also has been active within the Biological Sciences community as a member of the Division's Diversity Committee and nationally by representing UC San Diego at conferences such as the Society for Advancement of Chicanos and Native Americans in Science and the Annual Biomedical Research Conference for Minority Students. Her dedication to teaching excellence has been recognized through her work as a graduate teaching mentor and by receiving her department's TA Excellence Award.
In the fall Pater will begin a position as a Consortium for Faculty Diversity Fellow and Visiting Assistant Professor at Amherst College.
More information about Edward Bouchet and the society named after him is available here.