Biology Students Receive Silagi Awards for Undergraduate Excellence
Award recognizes outstanding undergraduate research and scholastic achievement
June 10, 2019
By Mario Aguilera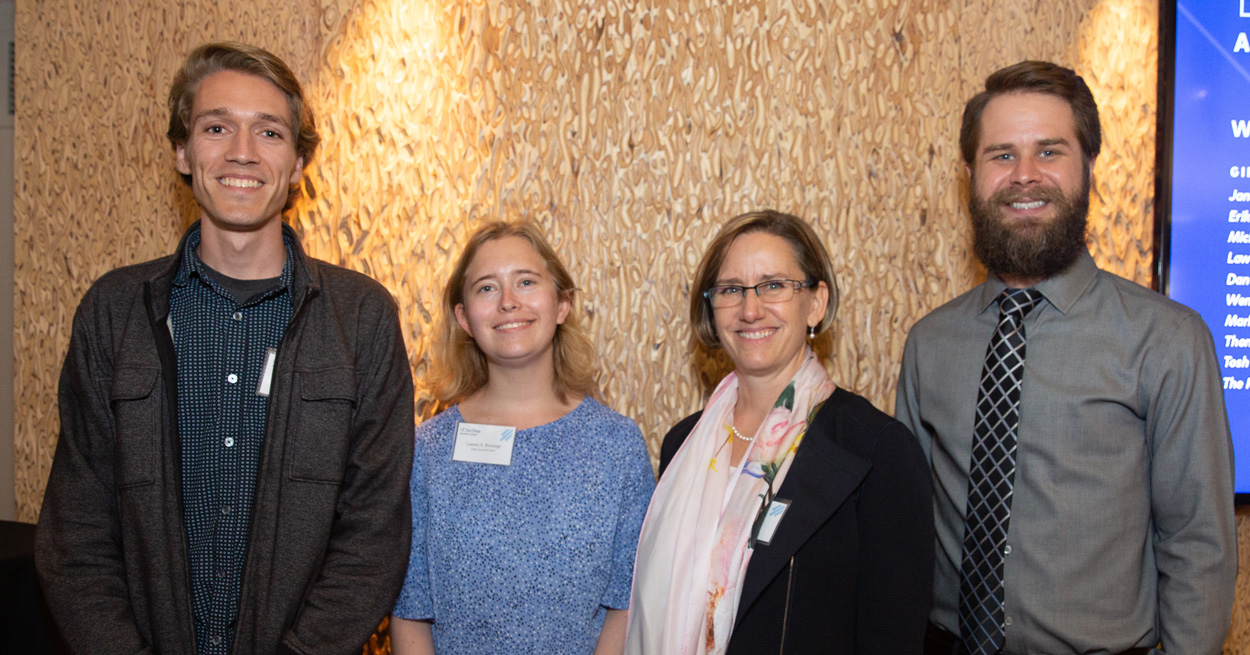 Biology undergraduate students Lauren Brumage, Michael Carver and Evan Saldivar have been selected to receive 2019 Selma and Robert Silagi Awards for Undergraduate Excellence.
Established in 1999 by Robert Silagi, the awards honors achievements by seniors in physical and biological sciences. According to the award's description: "These students have extraordinary distinction in academic achievement and research accomplishment who are committed to the pursuit of research at a postgraduate level." The award was originally established in honor of Robert Silagi's wife Selma, the late research scientist who moved to San Diego after retiring as professor emeritus from Cornell University in 1987. Following Robert's passing, the Silagi family updated the award name to include Robert to honor his memory.
The 2019 Silagi Award winners from the Division of Biological Sciences were recognized at an event on May 31, 2019.
Lauren Brumage: A microbiology and anthropology major, Brumage joined Professor Joe Pogliano's laboratory in 2016. In nominating Brumage for the award, Pogliano highlighted her progress in screening libraries of compounds to identify new classes of antibiotics that inhibit drug-resistant bacteria. "Lauren is a 'keystone student,' someone who makes an important difference to many projects in the lab," Pogliano noted in Brumage's nomination. "She has the intensity, talent and hard work ethic necessary to lead her own research lab someday." This fall, Lauren will enter the Molecular and Cellular Biology PhD program at the University of Washington in Seattle.
Michael Carver: Since joining Associate Professor Jim Wilhelm's lab, Carver, a molecular biology major transfer student from Cypress Community College, has proven to be an exemplary undergraduate researcher. Working to understand the evolution of cell motility, Carver uncovered a connection between a deeply conserved metabolic enzyme and the filaments that drive cell movement. "Any program would be lucky to have him and I believe he represents all of the best qualities we try to recognize with the Silagi Award," wrote Wilhelm. Carver plans to work as a technician for a year before applying to biology graduate programs.
Evan Saldivar: A molecular biology major, Saldivar started volunteering in Professor Eric Schmelz's lab in 2017 and quickly demonstrated outstanding research techniques in areas such as cloning maize genes and testing biosynthetic pathways for specialized metabolites. "While technically outstanding, as a team member Evan shines even brighter," said Schmelz. "Evan's diverse abilities are driven by a broad interest in plant sciences that first and foremost are based on a passion for nature, a zeal for understanding how plants function at the biochemical level and an interest in real stewardship of global biodiversity." Saldivar will be working between UC San Diego Assistant Professor Alisa Huffaker's and Schmelz's laboratories for one year while evaluating graduate schools.