Brenda Bloodgood and Kimberly Cooper Named Pew Scholars
June 11, 2015
By Kim McDonald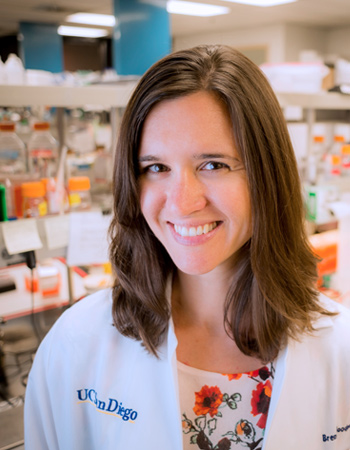 Erik Jepson, UC San Diego Publications
Brenda Bloodgood and Kimberly Cooper, assistant professors in UC San Diego's Division of Biological Sciences, join the ranks of more than 600 outstanding scientists who have been selected as Pew scholars in the 30 years since the program's inception and whose careers have been dedicated to bold scientific discoveries. Many Pew scholars have also been recognized with prestigious awards, including the Nobel Prize, the Shaw Prize and the Lasker Award.
Bloodgood will use her research award to investigate how the interaction with the environment alters the wiring of the brain through the regulation of genes, which may provide new ways to treat disorders such as autism and schizophrenia. Cooper will investigate how limb development in vertebrates is regulated by genes, which may shed light on human birth defects and other disorders in which musculoskeletal development is disrupted.
"This new class of remarkable scientists is emblematic of all that is unique, exciting, and compelling about this initiative," said Rebecca W. Rimel, Pew's president and CEO. "We are proud to provide a launching pad for the adventurous minds represented here, who will surely advance the field of biomedical science and create a healthier world for all of us."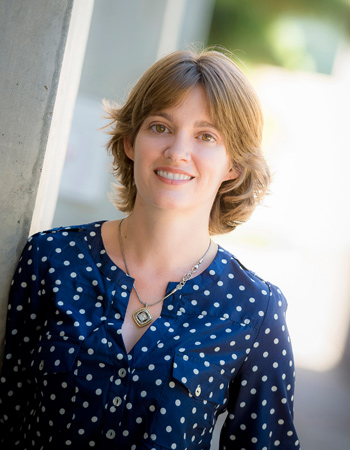 Erik Jepson, UC San Diego Publications
The program provides four years of flexible funding to scholars at the assistant professor level. Scientists are nominated for their dedication to pursing the high-risk, high-reward research that can lead to extraordinary findings in bioscience.
"The importance of encouraging scientific creativity and curiosity has never been clearer," said Craig Mello, a 1995 Pew scholar, 2006 Nobel laureate in physiology or medicine, and chair of the national advisory committee for the scholars program. "Pew scholars have harnessed the potential of this program for three decades, coming together to inspire and engage each other while advancing the biomedical research landscape. This year's class will no doubt continue that tradition."
Pew biomedical scholars gain entrée into a robust community of researchers, including Pew's Latin American fellows and Pew-Stewart Scholars for Cancer Research—the 2015 classes of which were also announced today. All gather yearly to share their findings and spur new lines of inquiry that lead to partnerships and collaborations that can extend for years.
Bloodgood received her doctorate in neurobiology from Harvard Medical School and trained as a postdoctoral fellow there until 2012, when she came to UC San Diego. Cooper received her doctorate in molecular and cellular biology from the University of Washington and was a postdoctoral fellow at Harvard University before coming to UC San Diego in 2013.
More information on this year's Pew scholars are available at Pew Charitable Trusts.