Five Biology Graduate Students Receive NSF Research Fellowships
June 13, 2019
By Mario Aguilera and the National Science Foundation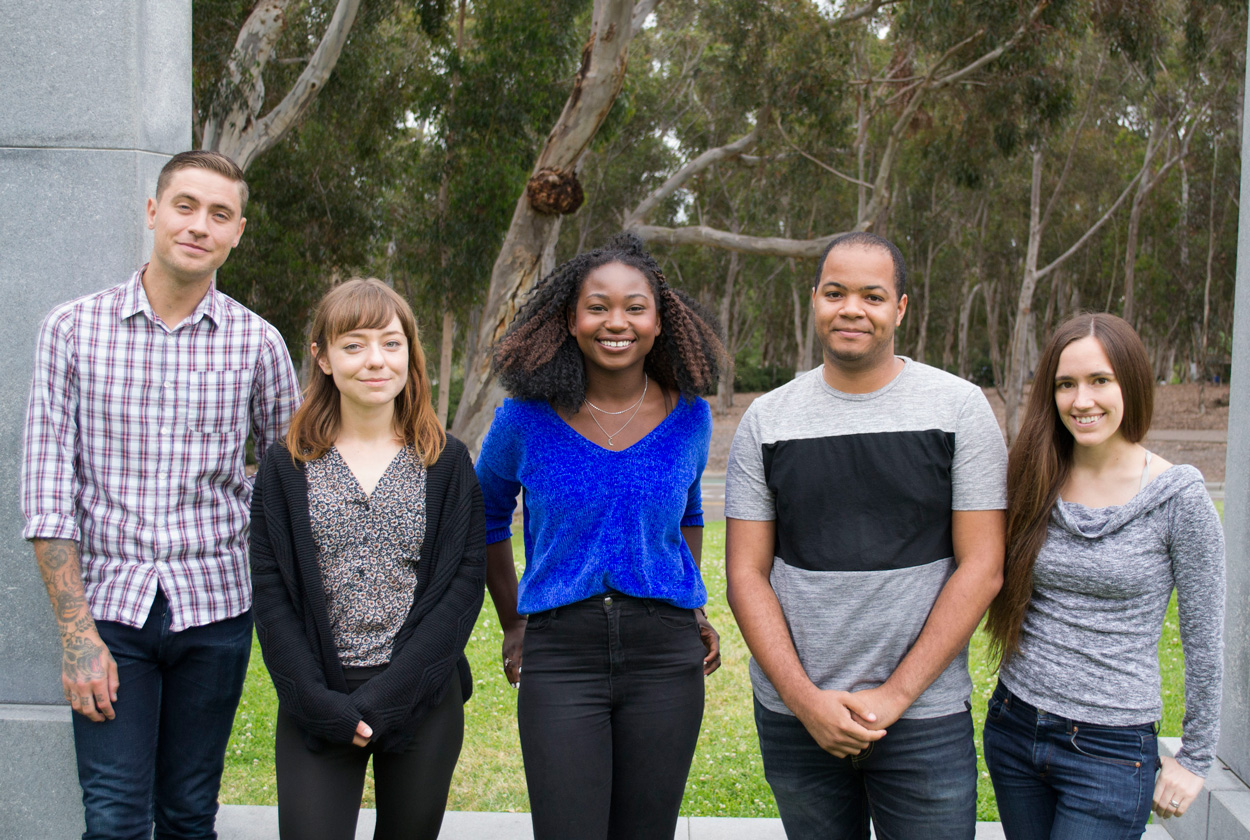 Five graduate students in UC San Diego's Division of Biological Sciences have received prestigious 2019 National Science Foundation (NSF) Graduate Research Fellowships. Eight Biology graduate students received honorable mentions.
Out of a national pool of 2,051 applicants, Biological Sciences' Rhea-Comfort Addo, Chris Beierschmitt, Devon Birdseye, Alana Gibson and Donte Stevens were selected to receive fellowships.
The NSF Graduate Research Fellowship Program (GRFP) selects high-potential, early-career scientists and engineers, and supports their graduate research training in science, technology, engineering and mathematics (STEM) fields. The oldest graduate fellowship of its kind, GRFP provides three years of financial support including a $34,000 annual stipend and $12,000 cost-of-education allowance to the graduate institution. The funding supports graduate studies that lead to a research-based advanced degree in a STEM field.
"NSF Graduate Research Fellowships are highly competitive so I'm extremely proud to see that five of our biology graduate students were successful, along with several honorable mentions and recognition for our alumni," said Kit Pogliano, dean of UC San Diego's Division of Biological Sciences. "It's gratifying to know that our nationally ranked academic and research program in biology is underscored through critical recognition and support with these prestigious NSF fellowships."
Honorable mentions this year from Biological Sciences include Megan Marie
Aubrey, Henry Baker, Laura Margaret Beebe, Daniel Alexander Heinz, Beverly Marcella
Naigles, Cody Leland Ocheltree, Erin Schiksnis and Hannah Megan Strobel. Additionally, four Biological Sciences alumni received GRFP fellowships and six received honorable mentions.
According to the NSF, "The reputation of the GRFP follows recipients and often helps them become life-long leaders that contribute significantly to both scientific innovation and teaching." Past GRFP fellows include numerous Nobel Prize winners, former U.S. Secretary of Energy Steven Chu, Google founder Sergey Brin and "Freakonomics" co-author Steven Levitt.
About GRFP
Launched in 1952 shortly after Congress established NSF, GRFP represents the nation's oldest continuous investment in the U.S. STEM workforce. GRFP is a critical program in NSF's overall strategy to develop a globally engaged workforce necessary to ensure the nation's leadership in advancing science and engineering research and innovation. Former NSF fellows make transformative breakthroughs in STEM, are leaders in their chosen careers, and have been honored with major national and international prizes and awards. A hallmark of GRFP is its contribution to increasing the diversity of the STEM workforce, including geographic distribution, as well as the participation of women, underrepresented minorities, persons with disabilities and veterans.