Division holds 5th Annual Graduating Senior Reception and Award Ceremony
June 18, 2007
By Pat Walsh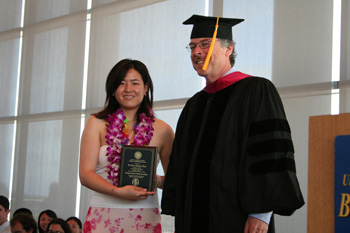 Professor Mike Yaffe, chair of the Division's Education Committee, presented academic achievement and service awards to 40 graduating biology seniors at the 5th annual Graduating Seniors Reception, held Saturday, June 16, at the Great Hall on the ERC campus. Awards were given to seniors with the highest grade point average in their area of concentration in biology, to students who successfully completed the Division's Senior Honors Thesis Program (BISP 196), to this year's recipients of the Milton H. Saier, Sr., Awards in Computational Biology and in Prokaryotic Biology, and to seniors who provided exceptional service to their fellow students as officers of the Biological Sciences Student Association or as staff members of the Division's undergraduate research journal, Saltman Quarterly.
In his remarks to the approximately 350 students, families, faculty, and other guests, Prof. Yaffe congratulated the graduates on this major accomplishment in their lives and commended their parents for their commitment and sacrifices in helping their children obtain the quality education available at UC San Diego. As they joined the ranks of 20,000+ UCSD biology alumni, Yaffe encouraged the graduates to stay connected with the Division of Biological Sciences as they pursue their various career paths.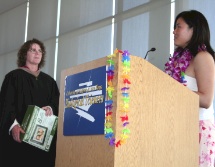 During the ceremony, Barbra Blake, a UCSD biology alumna and former Assistant Dean for the Division, was honored by the members of BSSA for her role in establishing the Biological Sciences Student Association five years ago and for her continuing inspiration, guidance, and support for undergraduate biology students at UCSD.
This annual celebration and recognition ceremony is organized by the BSSA and sponsored by the Division of Biological Sciences.