Distinguished UC San Diego Developmental Biologist Named Dean of Biological Sciences
June 21, 2013
By Kim McDonald
William (Bill) McGinnis, a distinguished professor of cell and developmental biology at UC San Diego, has been named the Dean of its nationally renowned Division of Biological Sciences.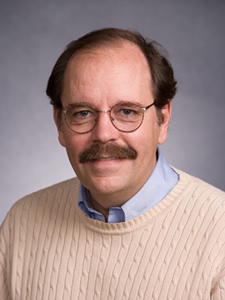 His appointment follows a national search during the past academic year for a prominent research scientist to lead UC San Diego's biological sciences research and education programs, which received a top ranking from the National Research Council's comprehensive ranking of doctoral programs in 2010 and in 2012 was ranked ninth in the world by the Academic Ranking of World Universities conducted by the Center for World-Class Universities at Shanghai Jiao Tong University.
McGinnis, who served as the interim dean of the division during the past year as well as from 2000 to 2001, is a highly regarded research administrator and an internationally renowned biologist whose discoveries have shaped our understanding of how genes regulate early embryonic development.
"Bill McGinnis has demonstrated strong leadership skills and contributed significantly to the division's success," said UC San Diego Chancellor Pradeep K. Khosla. "I am confident he will continue to work with our faculty to enhance the division's programs, and further our excellence in biological sciences education and research."
Said Executive Vice Chancellor Suresh Subramani, a professor of biology and long-time colleague of McGinnis, "Bill is a distinguished biologist and has a strong vision for the future of the division. With his knowledge of its culture and his collaborative leadership style, he's the ideal choice to work with faculty, staff, students and community leaders in advancing the division's mission of scholarship and innovation. I look forward to working with him."
"In fewer than five decades, the Division of Biological Sciences and UC San Diego have both achieved a well-deserved reputation for academic and scientific excellence, innovation and achievement, which rivals that of older, more established institutions of higher learning," said McGinnis. "A key to our success has been our ability to recruit dynamic, award-winning faculty at both the senior and junior levels, thus ensuring that our nationally ranked research and educational programs will continue to grow in excellence with an infusion of new ideas and new energy."
"The division's teams of researchers are making breakthroughs that hold promise for solving some of the most perplexing and urgent issues of our time, from curing cancer and diabetes to removing toxic waste from the environment, from protecting the world's food supply to exploring the diseases of aging and the brain, from creating sustainable biofuels to maintaining the planet's biodiversity."
In addition to his scientific and administrative talents, McGinnis's personal experiences have molded him into a passionate advocate of higher education and opportunities for students to become exposed to research, particularly those from disadvantaged and underrepresented backgrounds.
"I grew up in Warrensburg, Missouri in a family of very modest means," he said. Unable to pay for college, McGinnis enlisted in the Navy during the Vietnam War and served for three years aboard the aircraft carrier USS Enterprise. His berthing compartment on the ship contained 140 other ethnically diverse enlisted men, "some of whom were brilliant, but disadvantaged," he recalled. "As I've told many to their disbelief, a few of these young men were as talented as the best PhD students I knew at Berkeley."
McGinnis attended San Jose State University on the GI Bill, receiving his BS degree in biology in 1978, then went on to UC Berkeley, where he received his doctorate in molecular biology in 1982. He was a Jane Coffin Childs postdoctoral fellow at the University of Basel in Switzerland and, from 1984 to 1995, was on the faculty of Yale University, where he held joint appointments as a professor of biology and a professor of molecular biophysics and biochemistry. His awards include the Vietnam Service Award, a Searle Scholar Award, a Presidential Young Investigator Award and a Dreyfuss Teacher/Scholar Award. In 2010, he was elected a member of the prestigious American Academy of Arts and Sciences.
McGinnis is well known internationally for his work on how genes that control embryonic development in fruit flies–specifically a class of regulatory genes, known as Hox, that act as master switches by turning on and off other genes during embryonic development. He discovered with two other scientists in 1983 that the same Hox genes in fruit flies that control the placement of the head, thorax and abdomen during the development of the fruit-fly embryo are a generalized feature in shaping the body plans of all higher animals, including humans. His current research has been focused on understanding the roles of genes in humans and other animals that regulate the regeneration of animal skin and other epithelial barriers after wounding.
McGinnis replaces Steve Kay, who was the division's dean from 2007 to 2012, and is now dean of the University of Southern California's Dornsife College of Letters, Arts and Sciences.