Raymond Mak Honored with Saltman Excellent Teaching Award
Experiences with dense scientific articles inspire Biology grad student to develop a better way
June 28, 2019
By Mario Aguilera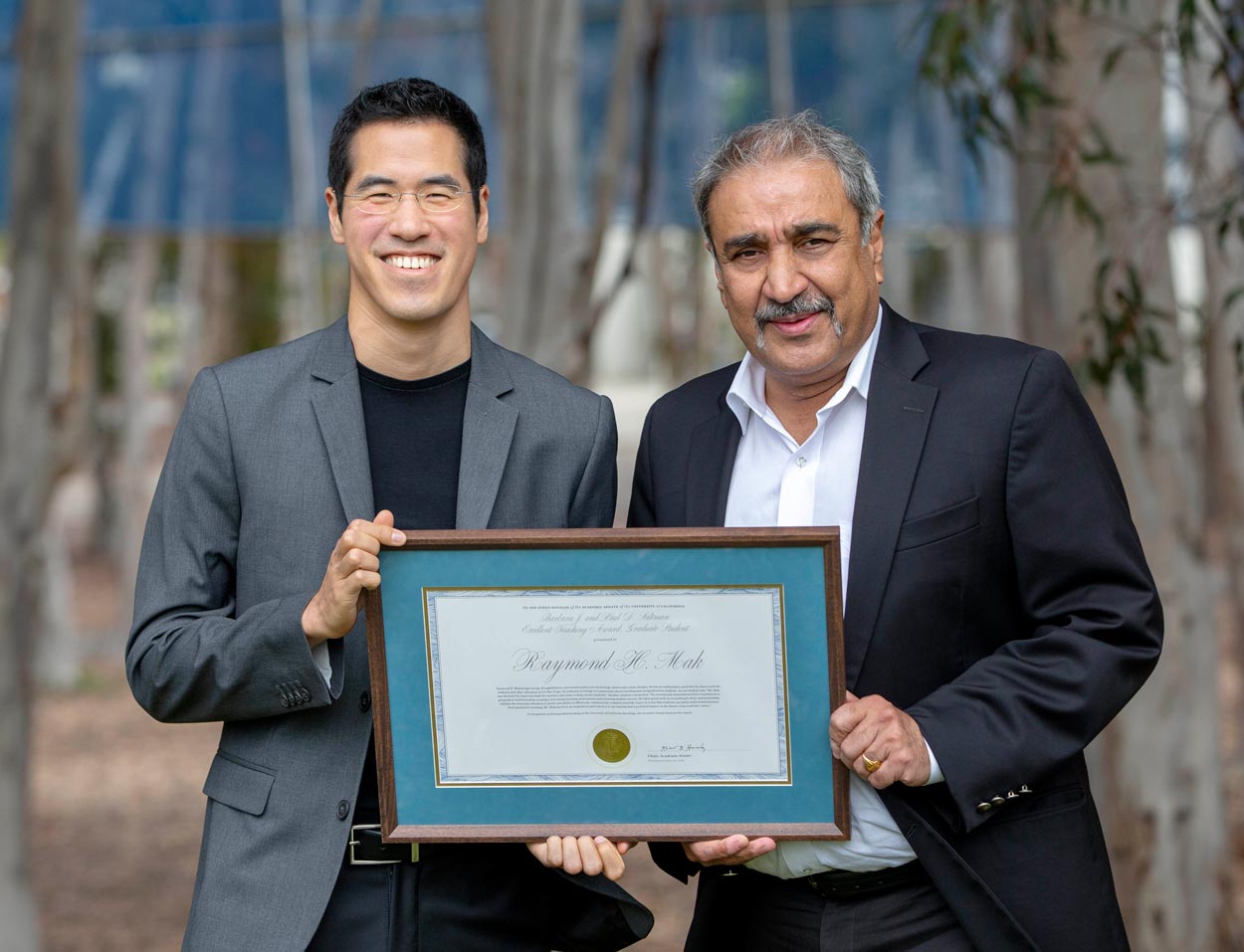 Wonderstruck Photography
The UC San Diego Committee on Senate Awards has named Division of Biological Sciences Graduate Student Raymond Mak as a recipient of the 2018-2019 Barbara and Paul Saltman Excellent Teaching Award for Graduate Students.
The award was established in honor of Barbara Saltman and her husband Paul Saltman, the late Biological Sciences Professor who was a charismatic and influential figure on campus known for his passion for science and teaching. Saltman Award winners, who were honored at a May reception at the UC San Diego Faculty Club, receive a plaque and a cash award. In addition to graduate students, Saltman Awards also are given to Academic Senate members and non-Senate faculty.
The UC San Diego Academic Senate describes the Distinguished Teaching Award as a "tangible expression of UC San Diego's commitment to excellence in teaching and to ensuring that this commitment is maintained. The Committee on Distinguished Teaching seeks to select those who exhibit creativity, innovative teaching methods, the ability to motivate students to actively seek out knowledge and an extraordinary level of teaching commitment."
Mak was nominated by Associate Teaching Professor Aaron Coleman, with whom he worked as an instructional assistant for three biology classes. In the award nomination, Coleman described Mak as an "extraordinary teacher" and highlighted his innovative approaches and creativity.
"He knows how to break down difficult concepts and present them in a way that makes them understandable, and he has been consistently praised for this in the student feedback for all three classes," noted Coleman.
Mak's motivation to develop new teaching methods is fueled by his own experiences in science education, aspects of which he describes as highly inefficient and impersonal. In particular, Mak felt intimidated reading scientific articles, a process he describes as "very opaque and inaccessible." Thus he set out to improve scientific literacy skills and remove the fear and intimidation for students. He came up with a new method that breaks apart science papers into digestible sections.
"We broke down the article to show the students the information in chunks," said Mak. "We wanted to get them to understand that one chunk; the article is supposed to tell a story so we tried to recreate the article from the figures alone. Then we tried to recreate the article and put together their version of what the article means."
The method proved effective and Mak takes satisfaction in knowing that going forward the students are equipped to apply the method to any scientific article they encounter.
Coleman noted that for the class (a Nutrition course) Mak "used ideas from an evidence-based approach for incorporating primary research into undergraduate education. In doing this he demonstrated a strong knowledge of the biology education research literature and a good deal of creativity." Separately, Coleman applauded Mak for improving a central part of the lab curriculum for a Biochemical Techniques class. He says the improvements "are now used in all the course sections of the class, which is taught by multiple instructors." 
Part of Mak's effectiveness in translating research through storytelling comes from his participation in Theatre and Dance Professor Kim Rubinstein's "Communicating Your Research" workshop for graduate students, which Mak describes as "game changing."
A native of Ottawa, Canada, Mak attended the University of Toronto where he studied biochemistry. He received a master's degree in biology from ETH Zurich, Switzerland, before joining UC San Diego, initially working in Associate Professor Eric Bennett's laboratory. He joined the Biological Sciences PhD program in the fall of 2015. Conducting research in Professor Alan Saghatelian's laboratory at the Salk Institute for Biological Studies, Mak now studies peptide hormones to help characterize their functions.